Low Calorie Chai Spiced Granola
Ingredients
3 cups organic oats (not instant)
1/4 cup uncooked millet
1/4 cup sesame seeds
1/8 cup flax seeds
1/4 cup chopped pecans
1 1/2 teaspoons cinnamon
1/4 teaspoon ground nutmeg
1/4 teaspoon ground cardamom
1/8 teaspoon ground cloves
1/4 cup diced dried sour cherries
1/4 cup raisins
1/4 cup maple syrup
1/4 cup orange juice
Directions
Heat oven to 300F. In a large bowl, combine all dry ingredients except dried fruit. Drizzle in the maple syrup, stir well. Add orange juice stirring so all ingredients are coated. If mixture seems too dry add in some more maple syrup and/or orange juice.
Spread the mix out onto a large, low rimmed baking dish and bake for 30 minutes, stirring checking about every 10 minutes so nothing burns. Add in the raisins and cranberries and bake until the granola turns golden and crisp, about five to seven minutes.
Remove from oven and cool completely. Store in an airtight container. Serve with fresh fruit and yogurt.
Makes 8 half cup servings.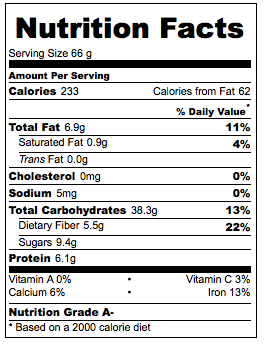 Information
Category

Breakfast/Brunch, Granola

Cuisine

North American