Low-Calorie Peanut Butter Snacks
3 Good-For-You Treats to Satisfy Peanut Buttery Cravings
Got a hankering for some peanut butter? One tablespoon of this creamy spread will run you 105 calories, so if it's peanut butter you're after but not all the calories, enjoy one of these deliciously satisfying and oh-so-nutty treats instead.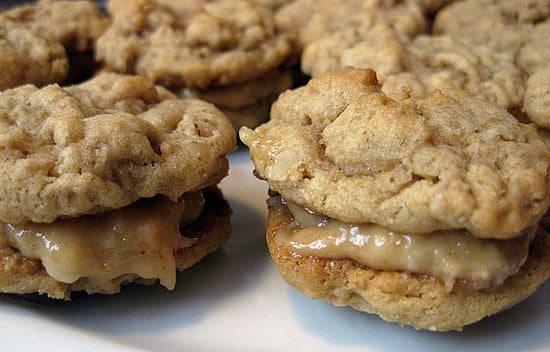 Peanut Butter Oatmeal Sandwich Cookies
For a healthy treat that feels really decadent, whip up these peanut butter sandwich cookies — the filling is mashed-up bananas, peanut butter, and honey. If you don't want to bake a batch of cookies, smear the spread on toast or use it as a fruit dip.
Keep reading to find out how to make the nutty yogurt spread above and for one more PB-inspired snack idea.
Creamy Peanut Buttery Apples With Grapes
The spread on these sliced apples is made with protein-packed vanilla nonfat Greek yogurt, all-natural peanut butter, and cinnamon, making it lower in calories than spreading straight PB on your fruit. Plus the sliced grapes add a sweet and juicy twist.
Lower-Fat Peanut Butter Raisin Spread
Dust off your food processor and whip up this healthy spread made with raisins, applesauce, cinnamon, and of course, peanut butter (you can also use peanuts). Store the unused portion in a glass container in the fridge to enjoy a quick, peanut-y snack whenever cravings strike.