Low-Carb Carrot Taco Shells
Low-Carb Crunchy Taco Shells You Can Make at Home
If you're over corn but craving a crunchy taco, we have a solution: homemade baked taco shells featuring carrots as the main ingredient. Lower in carbs and completely grain-free, you will love biting into these crispy shells. Or you can skip tortillas altogether and treat yourself to an avocado taco bowl. Both are flavorful and fun options.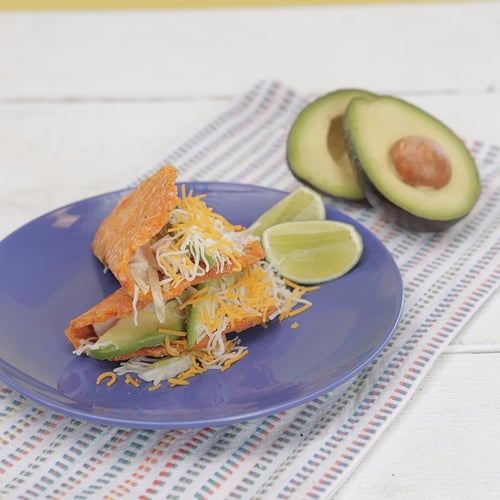 Crunchy Low-Carb Taco Shells
Recipe by Mona Zavosh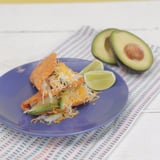 Ingredients
1 ½ cups peeled, grated organic carrot, about 3 medium carrots
1 cup water
2 organic eggs
1 cup shredded 4-cheese blend (parmesan, asiago, fontina, and provolone)
¼ cup organic yellow cornmeal
¼ teaspoon sea salt
2 teaspoons chile lime seasoning blend, optional
1 teaspoon ground cumin, optional
Directions
Preheat the oven to 400ºF.
Line a 9"x13" baking sheet with parchment paper or a silicone baking mat.
Wash, peel, and grate the carrots into a large bowl. Add 1 cup of water and cover the bowl with plastic wrap. Microwave the carrots for 4 minutes.
Allow the carrots to cool. Strain the cooled carrots and transfer to a clean kitchen towel. Squeeze out all the excess water from the carrots by twisting them in the towel until there is no more liquid.
In a clean bowl, whisk together the carrots, eggs, cheese, cornmeal, and spices.
Using a small scoop, place two mounds of the mixture onto the baking sheet. Flatten out each mound until you get a very thin circle, approximately 5 inches across.
Bake for 8 minutes, then remove from the oven. Using an offset spatula, flip each shell over and bake for another 3-4 minutes, being careful not to burn the shells.
As the shells are baking, take out a cupcake baking tray and turn it upside down onto your counter.
Once the shells are baked, quickly remove from the pan, gently fold each shell, and place in-between the cupcake cavities. As the shells cool, they will harden and keep their shape. Repeat the process until you finish with the batter.
Add your favorite taco fillings and enjoy these ridiculously crunchy, low-carb carrot tacos!