Low-Carb Chili Recipe
You Won't Even Miss the Beans in This Veggie-ful, Deliciously Low-Carb Chili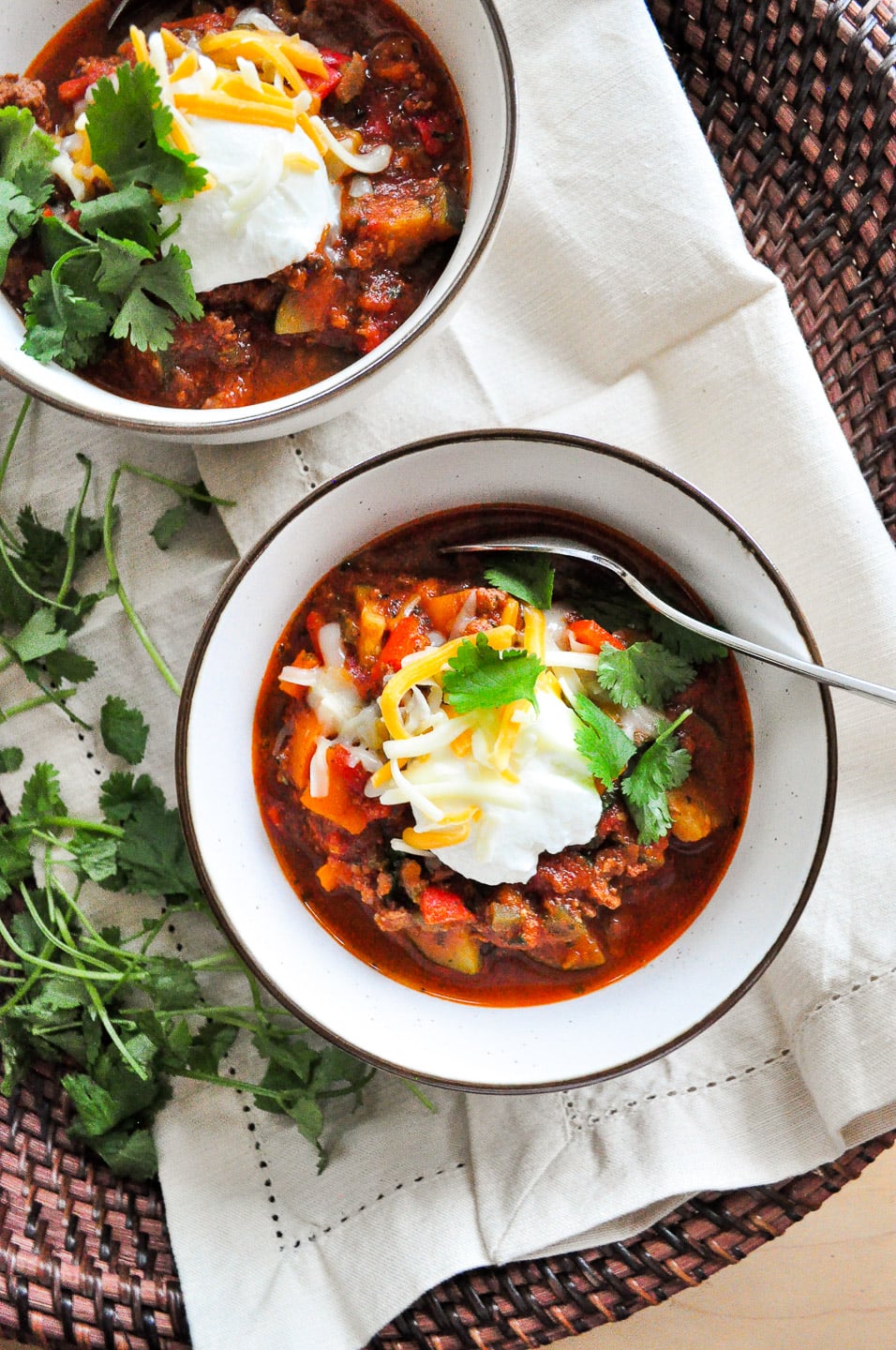 I know what you're thinking: No beans? In chili?! But while beans are standard for this comfort-food classic, you won't find them here. Sure, beans are a healthy source of protein and fiber, particularly for those who are plant-based, but when you're trying to follow a low-carb diet, they can come at a cost. While there's no reason to swear off them completely, you do have to eat them in smaller amounts. And I'm here to tell you that you don't need them in this flavorful, veggie-ful chili.
One of the things that has helped me most in my health and fitness journey is filling my meals with high-volume and high-nutrient foods in place of carbs and other calorie-dense options. So, instead of eating a bowlful of pasta, I'll load up the dish with vegetables, which helps keep me satisfied without overeating. This chili does exactly that. In place of the beans, there's zucchini, bell peppers, tomatoes, green chiles, and, of course, ground meat for protein.
If there are any low-carb vegetables you'd like to substitute or add, feel free to tweak the recipe to better suit your taste. You can also get creative with other sources of protein by swapping the ground beef for chicken or turkey, or even tofu. Let's dig in!
Low-Carb Chili
Original Recipe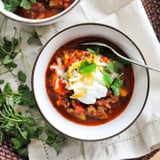 Ingredients
2 tablespoons olive oil
1/3 cup diced red onion
4 minced garlic cloves
1 pound ground beef
2 tablespoons cumin
1 tablespoon oregano
1 tablespoon paprika
1 teaspoon garlic powder
1/2 teaspoon cinnamon
1/2 tablespoon onion powder
1 tablespoon chili powder
1 1/2 teaspoon salt
1/2 teaspoon black pepper
2 cups chopped zucchini
1/4 cup diced green chile
1 cup chopped bell pepper
3 tablespoons Worcestershire sauce
2 tablespoons tomato paste
1 cup tomato sauce
1 14.5 oz can diced tomatoes
1 bay leaf
1 tablespoon minced parsley
Optional toppings: sour cream, cheese, avocado
Directions
Add olive oil in a large pan or pot over medium heat. Once the oil is hot, add the onions and garlic.
Add the ground beef with all the ground spices. Allow the meat to brown while breaking it apart with a wooden spoon or spatula so it doesn't clump up.
Once the ground beef is done, add the zucchini, chile, bell peppers, Worcestershire sauce, tomato paste, tomato sauce, diced tomatoes, bay leaf, and parsley.
Bring to a rolling boil for three minutes. Then, reduce heat to a simmer and cover for 20 minutes. If you like your chili a bit thinner, feel free to add a little beef broth.
Take off the heat and serve in a bowl with low-carb toppings like cheese, sour cream, or avocado slices.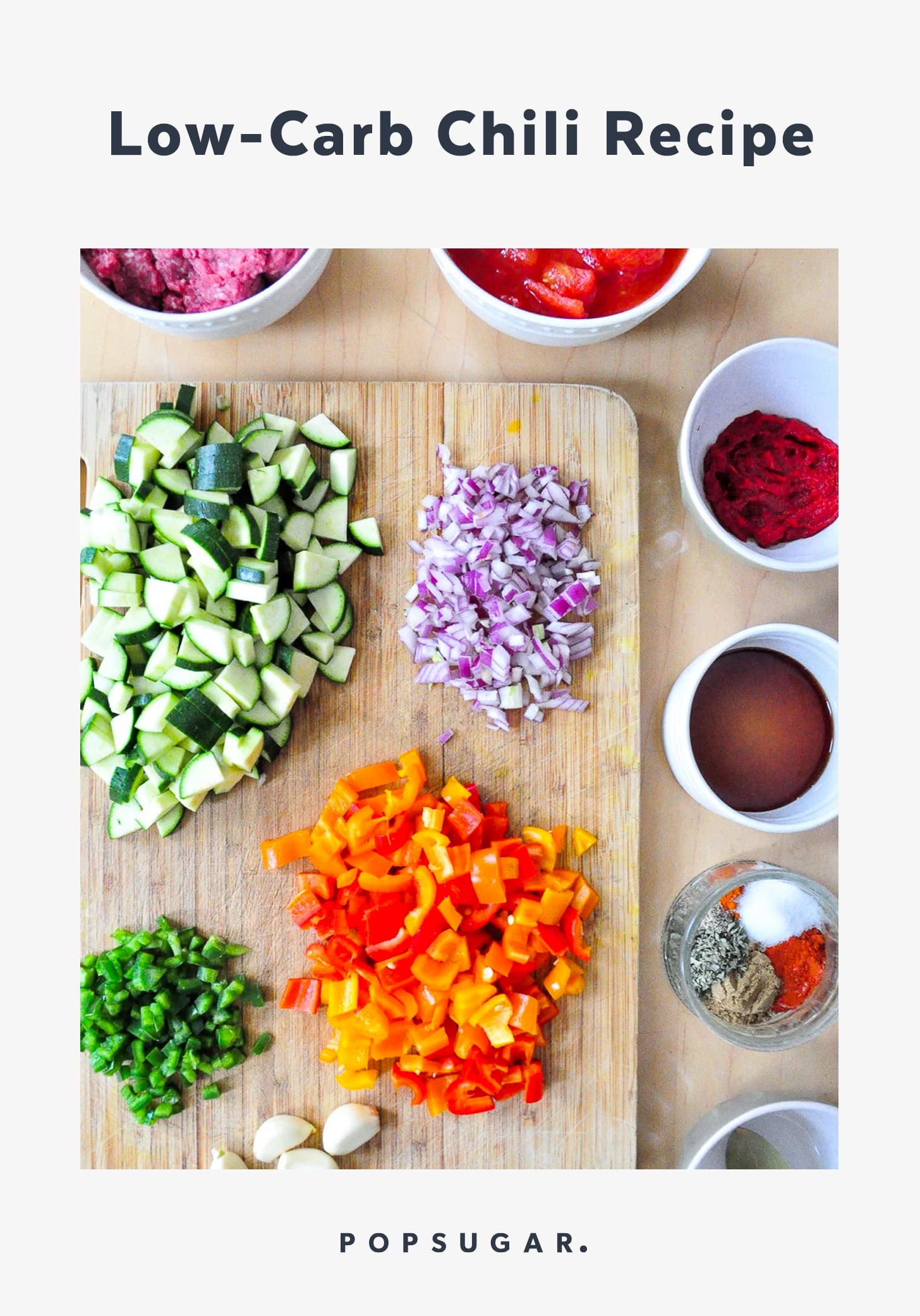 Information
Category

Chili, Main Dishes

Yield

5 servings

Prep Time

20 minutes

Cook Time

30 minutes

Total Time

49 minutes, 59 seconds
Image Source: POPSUGAR Photography / Hajar Larbah