Looking for a healthy low-carb [1] shrimp recipe? You've come to the right place! These easy and quick recipes [2] transform shrimp into salads, meal prep bowls, one-pan dinners, and even light tacos [3] that will make you want to eat shrimp every night of the week. On its own, shrimp is a naturally low-carb source of protein and omega-3 fatty acids, so adding it to your meals will ensure you stay full and fueled. To ensure these recipes align with your goals while still making shrimp the star of the show, we've rounded up dishes that are loaded with fresh veggies and use a variety of spices and sauces to highlight this healthy seafood [4]. Keep reading for the full list.
— Additional reporting by Lauren Harano
Shrimp Ceviche
If ceviche is your go-to seafood order, try making this naturally low-carb meal in the comfort of your own home. Simply adjust the amount of jalapeño to make it more or less spicy.
Get the recipe: shrimp ceviche [6]
Cherry Tomato and Feta Baked Shrimp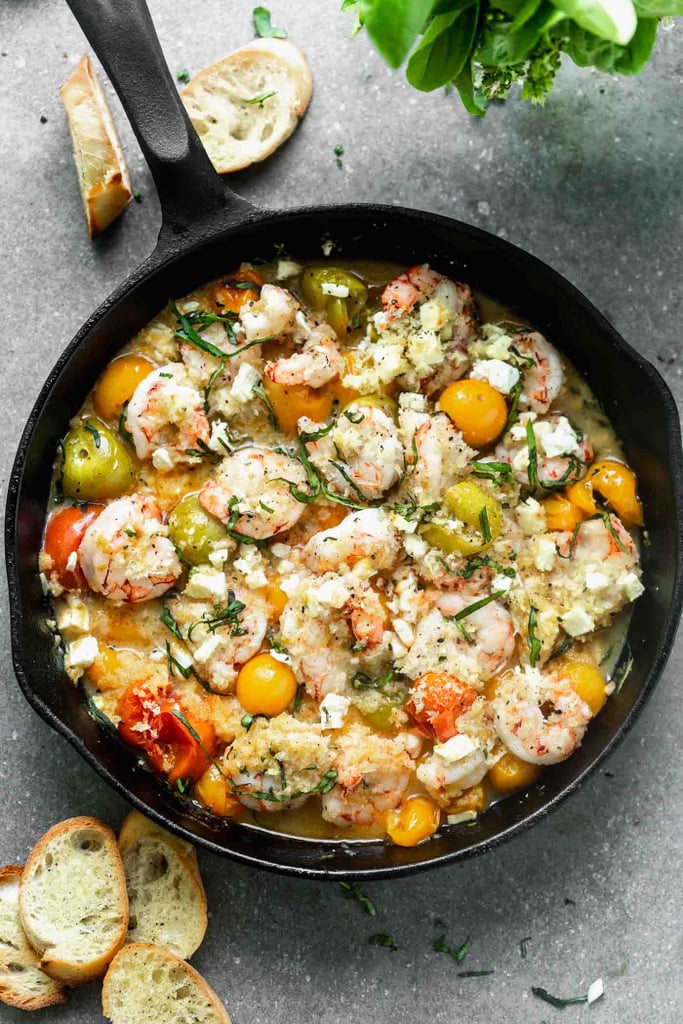 Thanks to the tomatoes, garlic, and feta cheese, this saucy shrimp dish is bursting with fresh flavor. To keep it low-carb, serve over spaghetti squash or zucchini noodles.
Get the recipe: cherry tomato and feta baked shrimp [7]
Cashew Shrimp Lettuce Wraps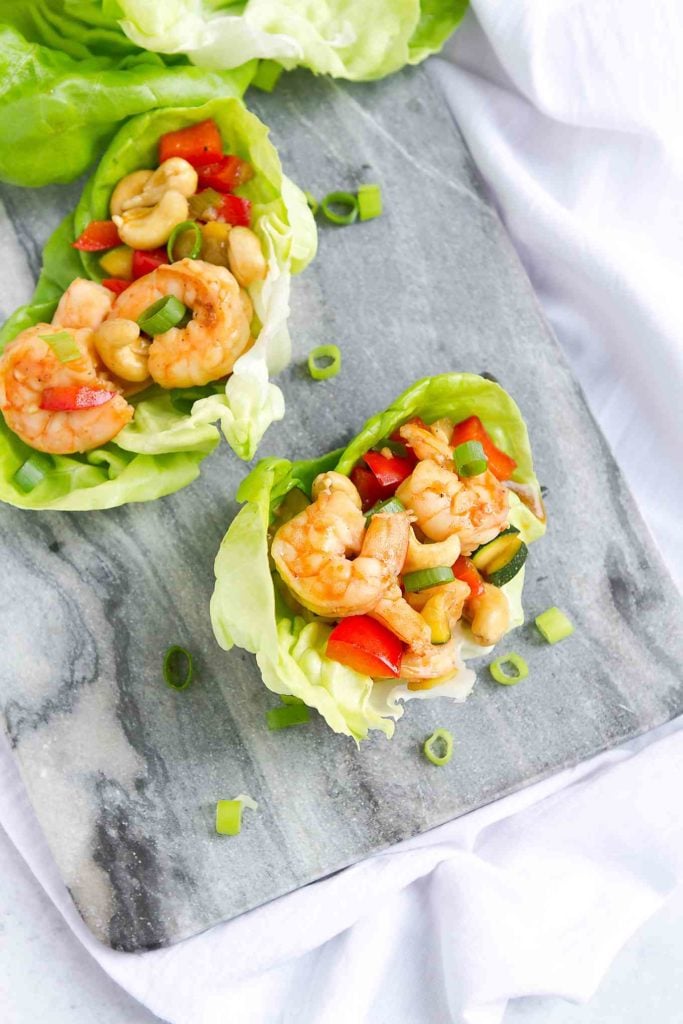 Crunchy cashews, colorful veggies, and an Asian sauce make these shrimp lettuce wraps into a fun and flavorful meal.
Get the recipe: cashew shrimp lettuce wraps [8]
Lime Cilantro Shrimp and Black Bean Salad
Though they're packed with fiber, the black beans in this dish might quickly eat up your daily budget for carbs. If that's the case, cut back on the beans, and add more avocado and cucumber to reduce the carb content without sacrificing flavor.
Get the recipe: lime cilantro shrimp and black bean salad [9]
Shrimp Meal Prep Bowls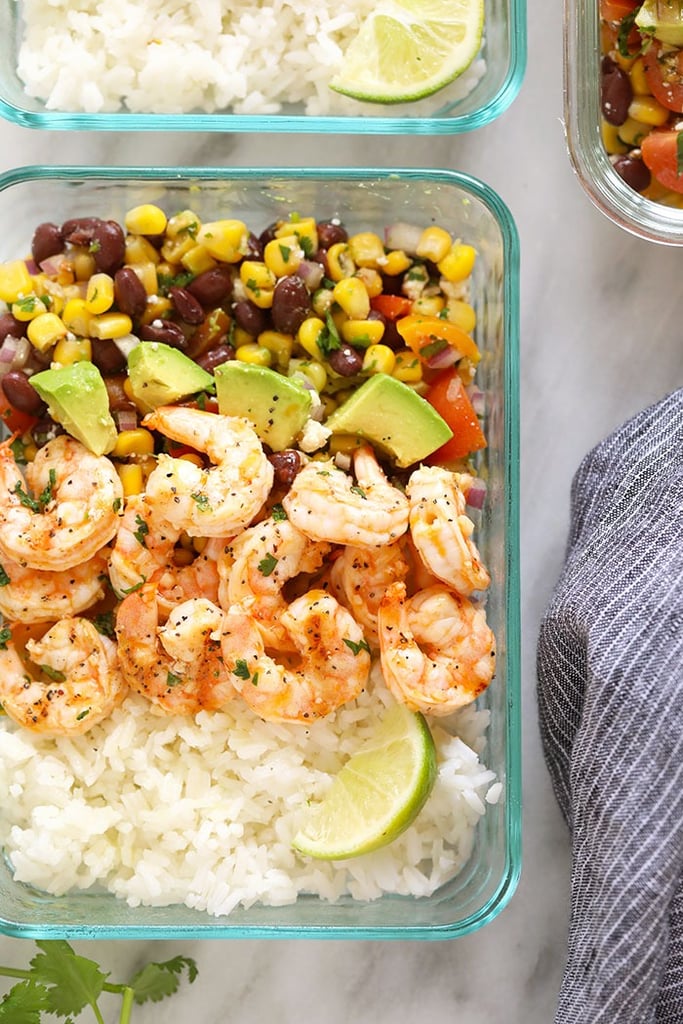 If you like to meal prep on the weekends, you'll love this spicy shrimp and black bean corn salad, which can easily be portioned out and enjoyed all week. To keep the carb count down, skip the rice or substitute cauliflower rice instead.
Get the recipe: shrimp meal prep bowls [10]
Honey Lime Air Fryer Shrimp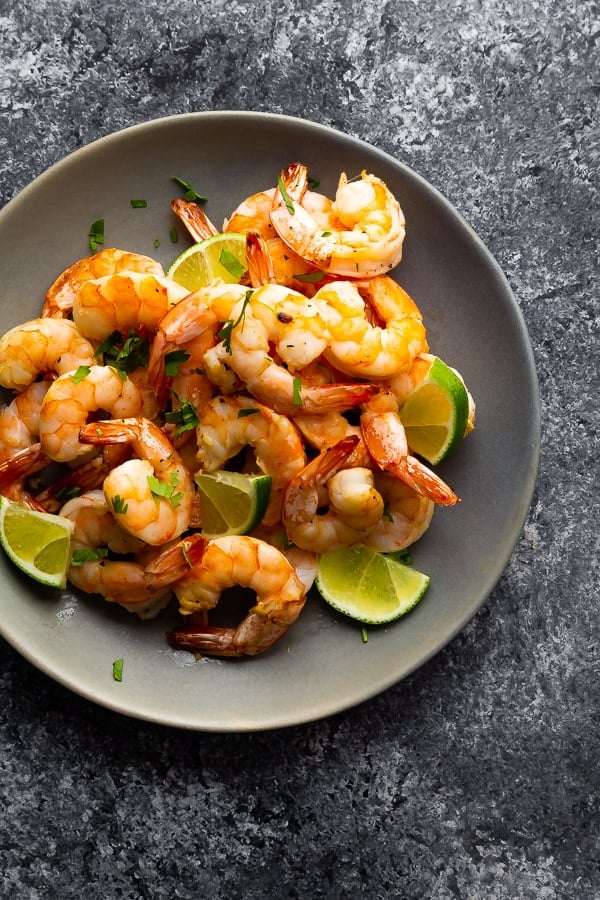 If you still don't have an air fryer, what are you waiting for? You can cook this citrusy-sweet shrimp in just five minutes after marinating.
Get the recipe: honey lime air fryer shrimp [11]
Shrimp and Asparagus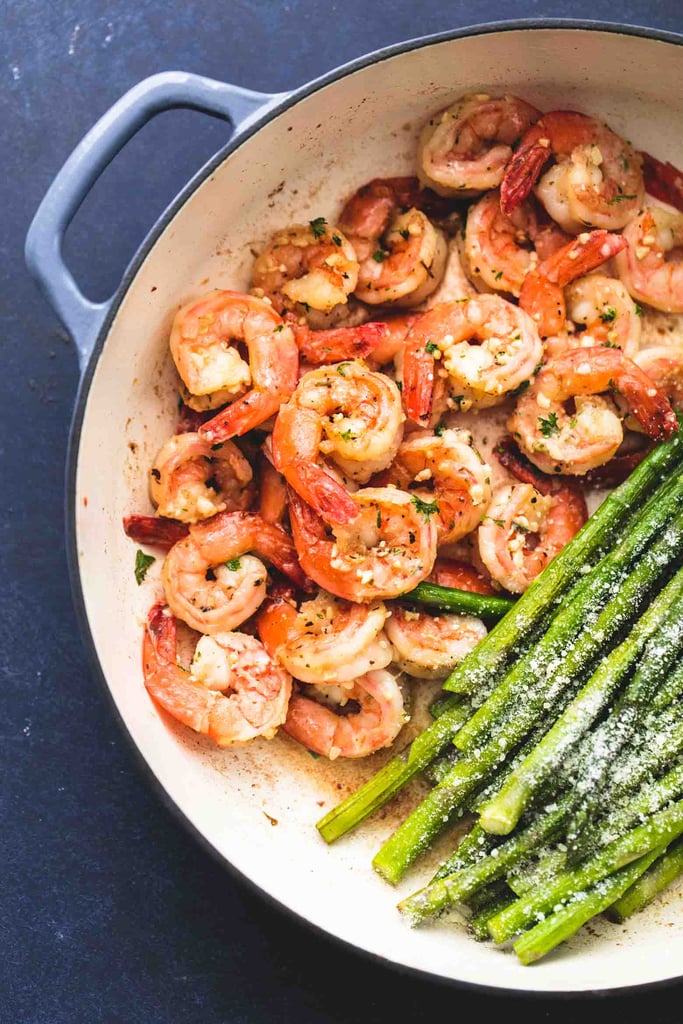 You can't go wrong when you top shrimp and asparagus with butter, herbs, and garlic. This one-pan meal even adds a sprinkle of Parmesan cheese.
Get the recipe: shrimp and asparagus [12]
Shrimp Avocado Salad With Watermelon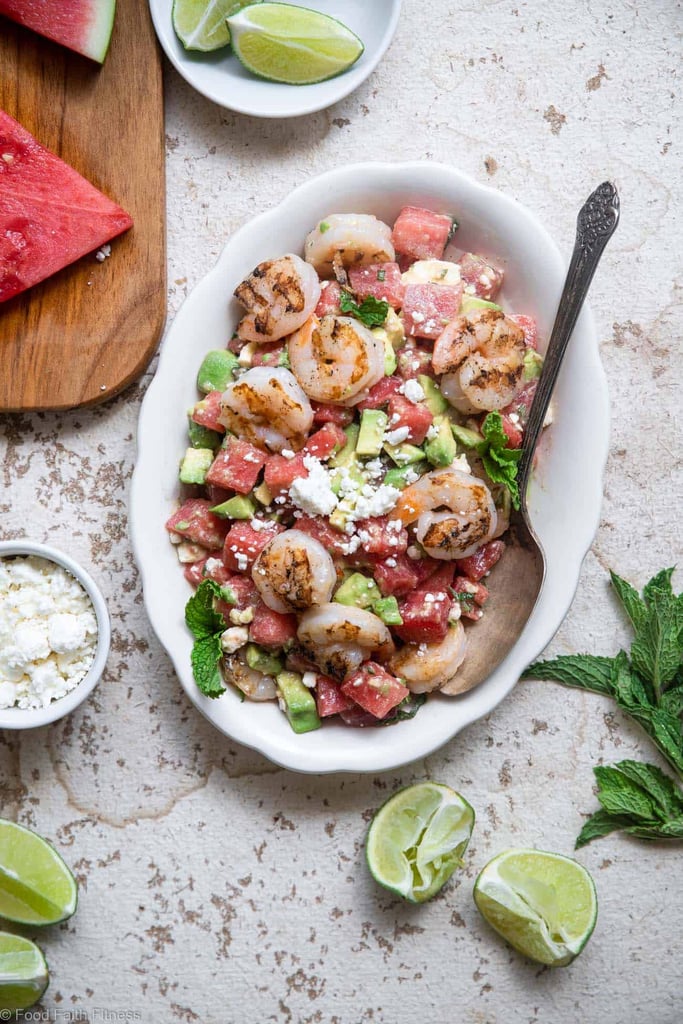 You don't often see shrimp and watermelon together, but this is one combination that works. Even with the fruit and spicy honey dressing, this dish has only 22 grams of carbs per serving.
Get the recipe: shrimp avocado salad with watermelon [13]
Spicy Shrimp Tacos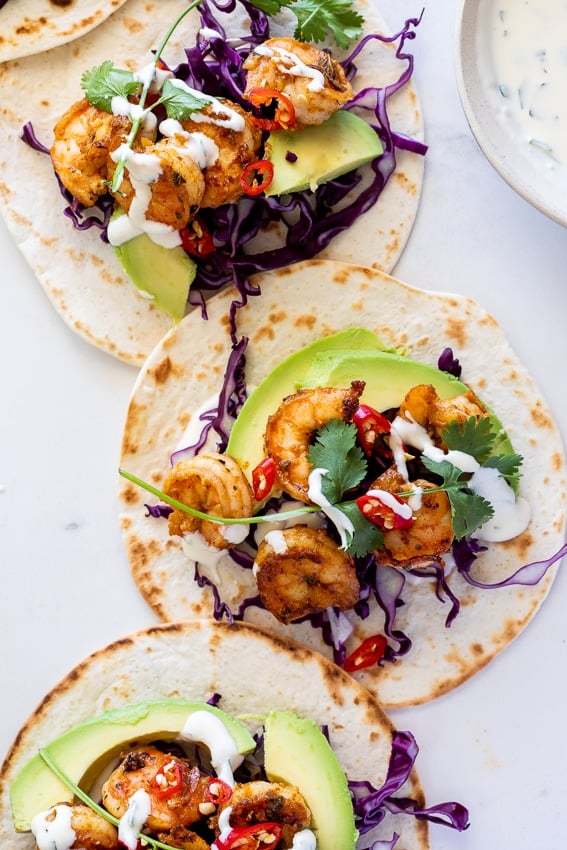 This list wouldn't be complete without shrimp tacos. If you can't spare the carbs for corn or flour tortillas, swap them out for one of these low-carb options.
Get the recipe: spicy shrimp tacos [14]
Mexican Salad With Chipotle Shrimp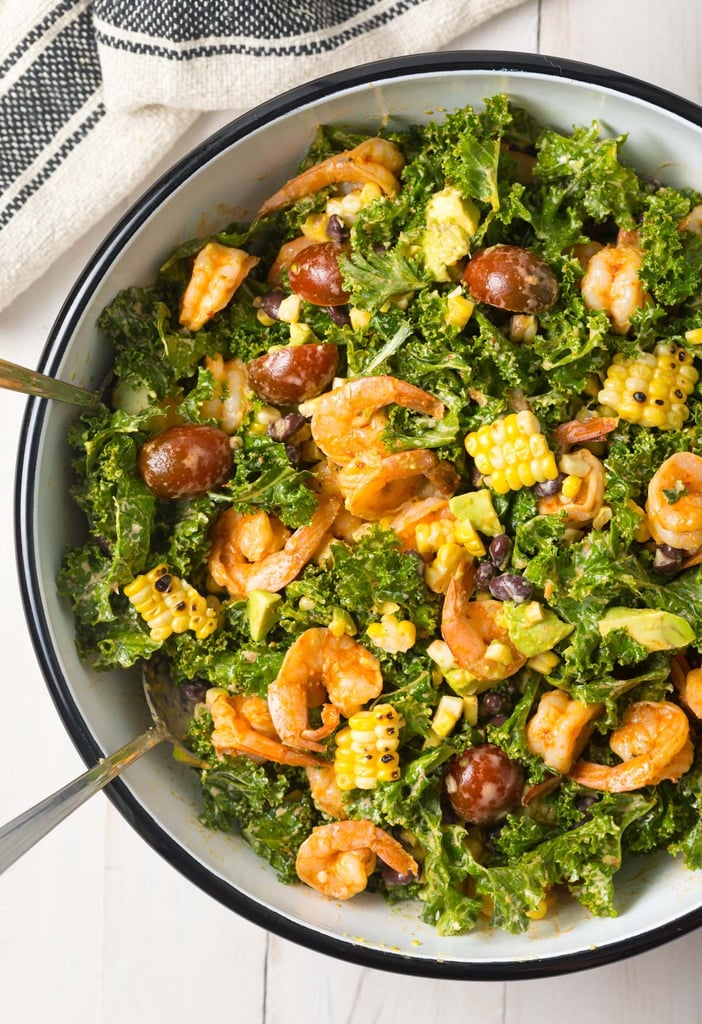 Shrimp, corn, tomatoes, black beans, and a creamy chipotle dressing come together for a fresh take on kale salad — and because kale is heartier than other greens, this salad will keep for several days in the fridge.
Get the recipe: Mexican salad with chipotle shrimp [15]
Creamy Lemon Dill Shrimp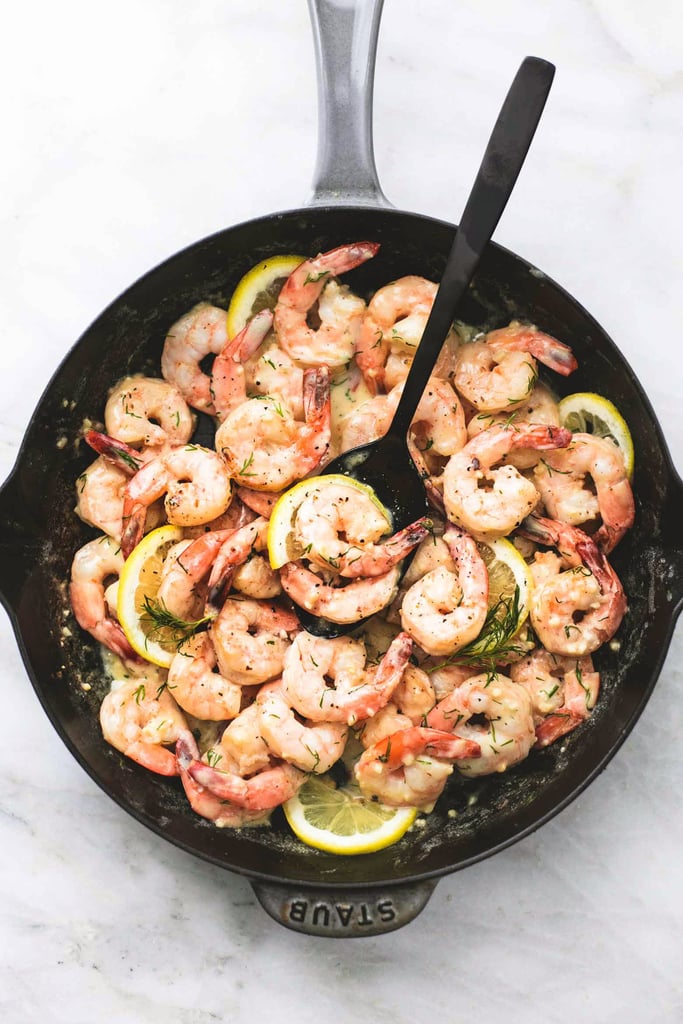 If you're watching your carbs, this creamy, herb-infused shrimp dish couldn't be more perfect. Pair it with roasted broccoli or brussels sprouts.
Get the recipe: creamy lemon dill shrimp [16]
Honey Lemon Shrimp and Corn Salad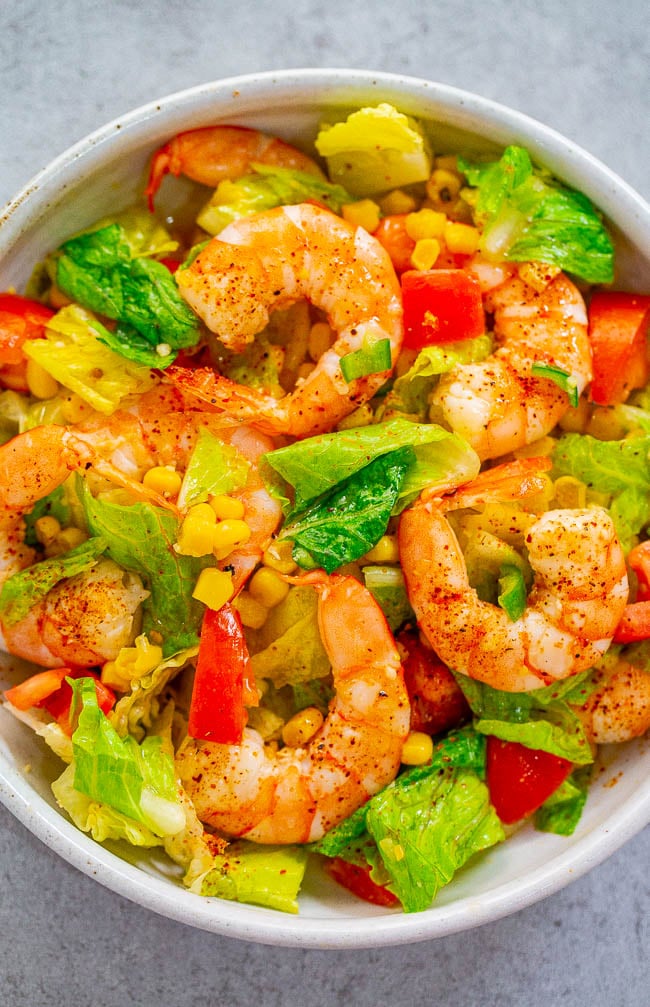 You need just 10 minutes to pull together this rainbow-hued salad. Since it contains 48 grams of carbs, you may need to adjust the amount of corn in the salad, and add more tomatoes and avocado in order to stay within the limits of your plan.
Get the recipe: honey lemon shrimp and corn salad [17]
Gingered Shrimp, Green Bean, and Broccoli Stir-Fry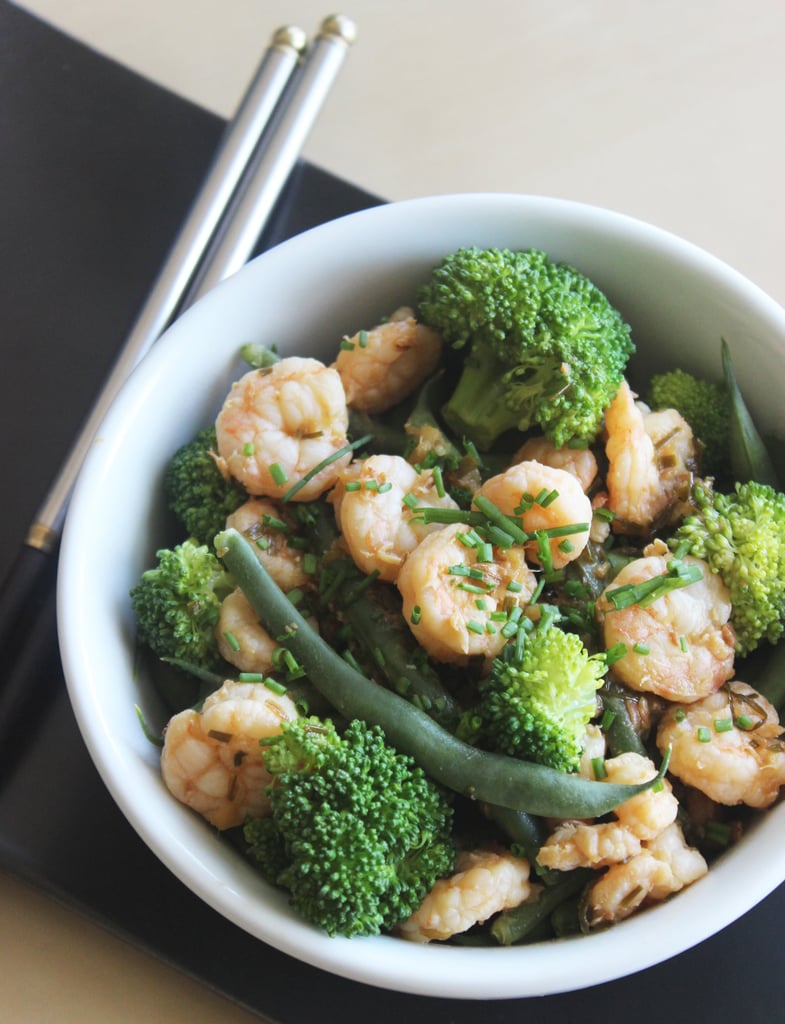 This green stir-fry goes from the stove top to the table in under 30 minutes. If you can't eat stir-fry without rice, serve it over a bed of low-carb cauliflower rice.
Get the recipe: gingered shrimp, green bean, and broccoli stir-fry [18]
Grilled Shrimp With Lemon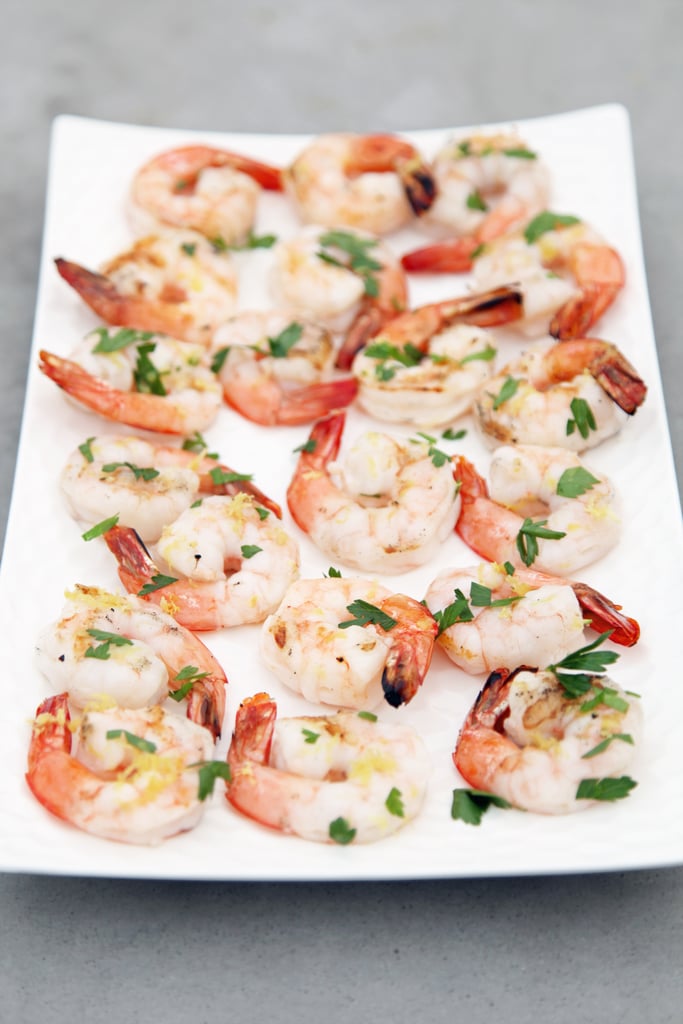 This recipe is no muss, no fuss — all you need is a hot grill (or stove) and five simple ingredients to make this perfectly cooked shrimp. To make it a meal, add a big green salad or a platter of roasted vegetables.
Get the recipe: grilled shrimp with lemon [19]
Shrimp and Spaghetti Squash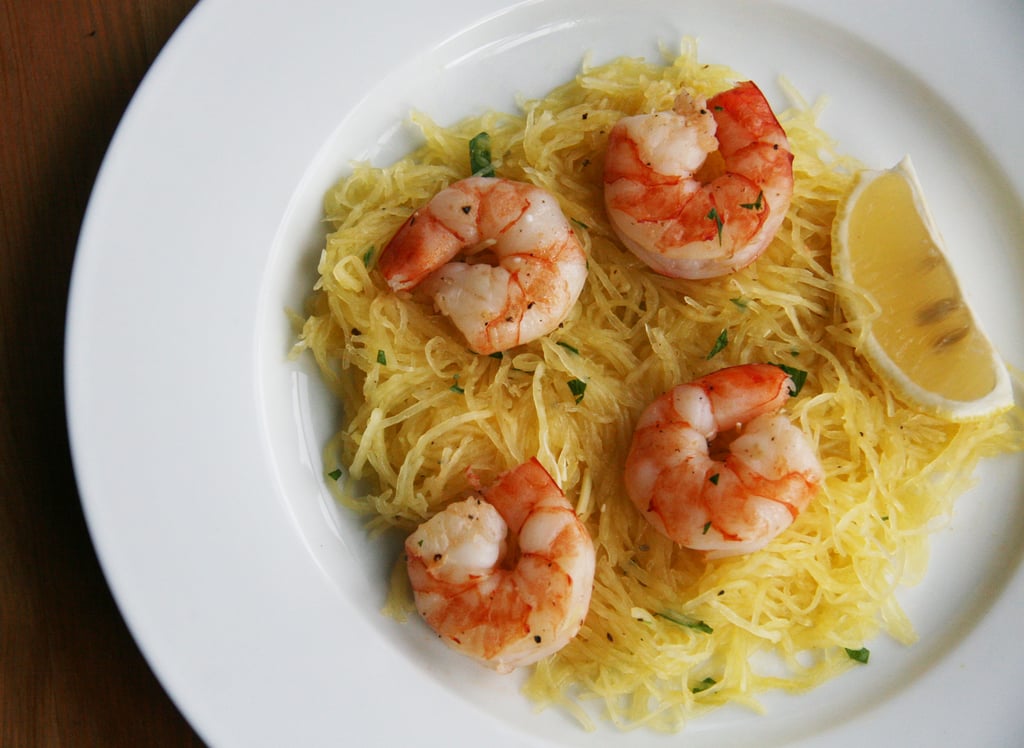 Shrimp scampi is delicious, but it's not exactly low-carb. This version replaces noodles with spaghetti squash for a tasty meal that's just as rich in flavor, but won't sabotage your goals.
Get the recipe: shrimp and spaghetti squash [20]