Low-Fat Eggnog Recipe
Try This Eggnog Cocktail With a Healthy Twist
Nothing says holiday happy hour like a classic eggnog cocktail. While this thick and frothy drink may be a holiday tradition, its heavy cream base offers nothing friendly to your waistline. For a lighter take on this creamy drink, we turned to Richard Blais, the winner of Bravo's Top Chef All-Stars. Blais lightened up this drink using protein-packed Greek yogurt instead of heavy cream. Finish with nutmeg, vanilla, and a pinch of cinnamon for a reduced-guilt drink that is just as decedent as it is delicious!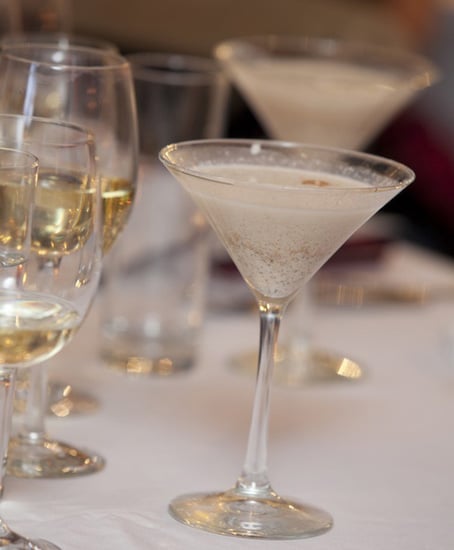 See the recipe when you read more.
Ingredients
4 cups low-fat milk
1 vanilla bean, split
6 cloves
1⁄2 tsp vanilla extract
1 tsp Saigon cinnamon
8 egg yolks
1 quart Dannon Oikos vanilla Greek nonfat yogurt
2 cups bourbon (optional)
For the garnish:
1 tsp fresh grated nutmeg
Powdered vanilla
Directions
Heat mixture of low-fat milk, vanilla bean, cloves, vanilla extract, and Saigon cinnamon; simmer for 10 minutes. Set aside.
Whisk the egg yolks, then whisk into the warm milk mixture.
Let this steep and cool, then strain.
Add remaining ingredients to this cool mixture.
Finish with a nice shaving of nutmeg, vanilla, and even more cinnamon if you wish!
Makes 12 7-ounce servings (with bourbon) or 12 5-ounce servings (without).
Calorie count with bourbon: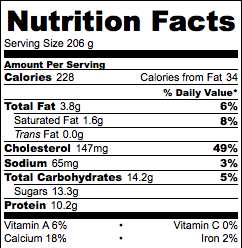 Calorie count without bourbon: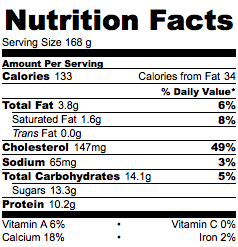 Information
Category

Drinks, Cocktails

Cuisine

North American