Low-Fat Red Velvet Cupcake Recipe
Low Fat and Low Cal: Red Velvet Stevia Cupcakes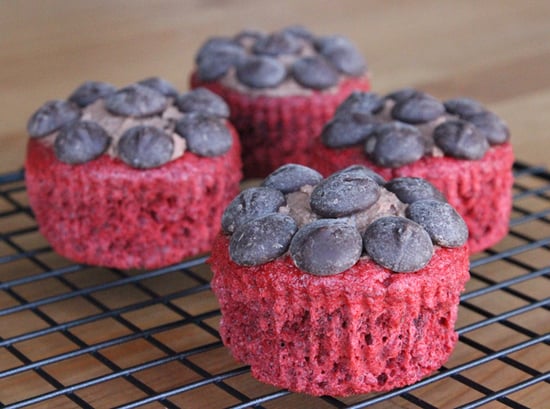 For a sweet treat that cuts back on calories, fat, and sugar, bake a batch of light and airy low-calorie red velvet cupcakes. While there's still a tablespoon of agave nectar used, the high-sugar content of traditional cupcakes is brought down with the addition of Stevia to the mix. This recipe only makes four cupcakes total, but consider it a blessing — this way you won't be tempted to chow down on all the leftovers lurking in the kitchen.
Keep reading for this sweet Stevia cupcake recipe.
Red Velvet Stevia Cupcakes
From Rocco DiSpirito, USA Today
Notes
The zero-calorie sweetener is not something I typically use in baking, but I was more than pleased with the results.
Ingredients
2 egg whites
5 packets natural Stevia sweetener (I used Pyure Brand)
2 teaspoons vanilla extract
1 teaspoon red food coloring
1 egg yolk
2 tablespoons buttermilk
1 tablespoon agave nectar
1/4 cup whole wheat pastry flour
2 tablespoons flaxseed meal
2 teaspoons unsweetened cocoa powder
1/8 teaspoon salt
For icing:
1 ounce dark chocolate chips
1/4 cup 0-percent-fat Greek yogurt
Dark chocolate chips (optional garnish)
Directions
Heat the oven to 350°F. Line four large muffin cups with paper liners. Lightly coat the liners with cooking spray.
To the egg whites, add two packets of the Stevia, one teaspoon vanilla, and 1/2 teaspoon food coloring. Mix and set aside.
In a separate bowl, add the remaining three packets Stevia, one teaspoon vanilla, and 1/2 teaspoon food coloring to the egg yolk. Whisk the yolk mixture for three minutes. Add buttermilk and agave. Whisk until combined.
In another small bowl, whisk together flour, flaxseed meal, cocoa powder, and salt. Add to the yolk-buttermilk mixture and mix until combined. Set aside
Using an electric mixer, beat the egg white mixture on medium to high until stiff peaks form. Working in three batches, fold the egg whites into the buttermilk mixture, being careful not to deflate the whites.
Spoon the mixture evenly into the muffin cups. Bake for 12 to 15 minutes, or until the tops spring back when lightly touched. Transfer the cupcakes to a wire rack and cool.
Meanwhile, to prepare the frosting, melt the chocolate chips and fold them into the Greek yogurt. Mix until smooth. Spread or pipe evenly over each cupcake. Garnish with the dark chocolate chips, if you wish.
Makes four cupcakes.

Information
Category

Desserts

Cuisine

North American