Low-Impact Forms of Exercise
Anyone Can Do It: Low-Impact Exercises and Their Benefits
You choose activities for different reasons: health, physical needs, and weight loss often play a part. No matter what your preferences are, there is an umbrella of exercise types known as low impact that can be recommended to everybody. Low-impact forms of activity are safer on your joints while providing the right amount of challenge to still get your heart racing. This type of exercises can even prevent you from injury while recovering your body from a pre-existing one. See which low-impact activity suits your style.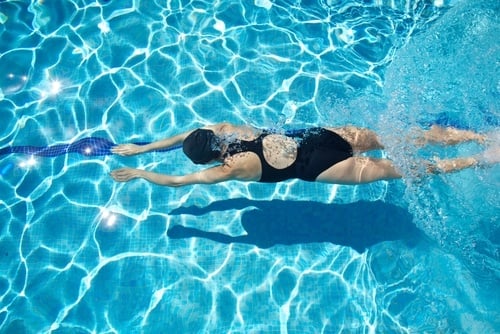 Swimming: While swimming can be recommended to just about everyone, the benefits will mimic your technique. A slow, steady swim is equivalent to that of a slow walk, according to Tay Stratton, head swim coach at Little Rock Athletic Club. Stratton recommends high-paced laps for weight loss and swears by the resistance water can provide to tone you all over. "Because water affords 12 times the resistance as air in every direction, it really helps to build strength," she says. To work every major muscle group in unison, swimming is the key.
Speed-walking: As the first exercise you ever discovered, walking is still in style, and preaching its health benefits is no frowning matter. Regular walking helps lower cholesterol, reduce the risk of type 2 diabetes, increase bone strength, and improve circulation. By increasing your pace to speed-walking, you can double the calories you burn compared to leisure-walking while building stamina. For the busiest of people, you can add walking into your regular routine by walking to and from work, in between lunch breaks, and while you run your errands. This simple addition can make a change in your overall health.
See 16 more types of low-impact exercises after the break!
Stationary cycling: Recommended to those suffering from knee pain, a stationary bike acts as an aid to support your body weight. Unlike floating in the water, gravity is acting against you on a bike, which helps you tone as you use your own pounds for resistance. The extra pressure makes you burn more while spinning because you have an entire body to carry through the movement. If you want an intense workout similar to running, without the concrete, then go for a spin.
Stair-climbing: This highly effective workout has a mix or serious toning without losing the cardio aspect. Since you are carrying your entire weight during this strength-training exercise, it is usually suggested to people without any current knee problems. If you are looking to sculpt your hips, thighs, and backside while torching calories, then this is the exercise for you. If you want to lose weight, then try stair-climbing in intervals by pushing yourself hard in short spurts, slowing down to a regular pace, and then speeding back up. The best part about stair-climbing is that you can do it anywhere!
In addition to these popular forms of low-impact exercise, here are 13 others that fall under the same category:
Yoga
Kayaking
Strength training
Water aerobics
Elliptical
Tai Chi
Hiking
Cross-country skiing
Pilates
Golf
TRX
Snowshoeing
Rollerblading