Low-Sugar Green Juice For Energy
Skip the Coffee For This Energizing Green Juice Recipe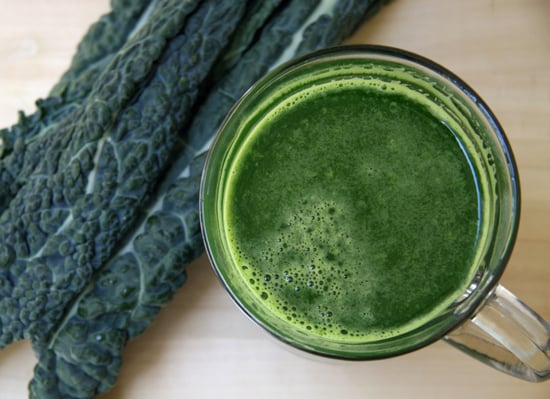 Now's the time to replace your sugar-laden latte with this energizing green juice from Neka Pasquale, founder of Urban Remedy. Low in sugar and rich in nutrients, Neka's recipe also delivers a boost of energy when you need it the most. "A low-glycemic juice is your best option to maintain energy," says Neka. "Added sugars can cause a spike in energy levels, and therefore, an energy crash later on. These ingredients will sustain you throughout the day." Here's why:
Cucumber: It contains phytonutrients that provide valuable antioxidant, anti-inflammatory, and anticancer benefits; it also contains B vitamins, which help support energy levels, says Neka.
Spinach: This dark, leafy green is a nutritional powerhouse! Spinach is high in iron, and a lack of iron equals a lack of energy. Neka's advce? Add a few extra handfuls.
Celery: According to Neka, the juice from celery rapidly alkalinizes the body and is rich in vitamins and minerals. It is also very high in water, helping flush out toxins.
Parsley: Rich in energy-producing chlorophyll, parsley helps to build red blood cells, which equates to higher energy levels, Neka says. Added bonus: parsley also freshens breath and increases oxygenation of cells, which supports detoxification.
Die-hard juicers, get excited; the juice has a grassy, vegetal flavor that instantly helps you feel healthier and awake. Now, get ready to get energized — see the juice recipe after the break!
Low-Glycemic Energizing Green Juice
From Neka Pasquale, founder of Urban Remedy
Notes
If you find this recipe is not sweet enough for you, add 1/2 an organic apple and a 1/4-inch knob of organic ginger for a sweet-spicy juice. You can also add two small beets with the greens; the beets will provide added sweetness and extra energy.
Ingredients
4 leaves organic lacinato kale
1 organic cucumber
3 cups organic spinach
5 stalks organic celery
1/2 bunch organic parsley
Directions
Wash all ingredients, pat dry, and run through your juicer. Juice the parsley and kale in between the higher-water-content ingredients like cucumber and celery. Drink one glass immediately; the remaining juice should be stored in the refrigerator in an airtight container and consumed within 3 days.
Information
Category

Other, Drinks

Cuisine

North American

Yield

Makes 28 ounces