Low-Sugar Meal Plan
Your Low-Sugar Meal Plan For the Day
According to the American Heart Association, most women should be consuming no more than 24 grams, or 6 teaspoons, of added sugar per day. If you know you're part of the population that needs to cut back, this 1,425-calorie meal plan will help you reach your low-sugar goals deliciously.
Breakfast: Quinoa Spinach Scramble (1.6 grams)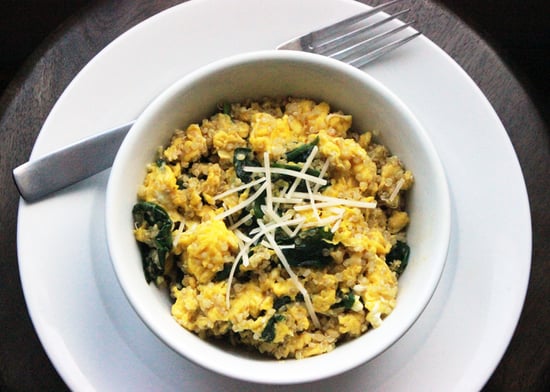 Whip up a quick and hearty quinoa spinach scramble that's high in essential vitamins and protein but incredibly low in sugar.
Pre-Workout Snack: Four Strawberry Banana Creams (7.2 grams)

The perfect balance of protein and carbs makes this low-cal and relatively low-sugar strawberry banana cream recipe a sweet treat you can enjoy guilt free.
Keep reading for the rest of the low-sugar meals.
Lunch: Tomato Lentil Soup (3.4 grams)

Two classic soups join forces to create one tasty lentil tomato soup. Red lentils are high in fiber, which, in combination with the protein they provide, keeps you feeling fuller for longer.
Afternoon Snack: Two Asparagus and Salmon Bundles (4.6 grams)

These asparagus and salmon bundles are an elegant snack fit for any healthy day of eating — or a special Spring soiree. Enjoy two bundles for a filling afternoon snack.
Dinner: Pinto Bean Burger (5.4 grams)

You won't believe how quickly this big pinto bean burger comes together. The handful of ingredients this recipe calls for are probably in your pantry already.
Total Sugar For the Day: 22.2 grams