Low-Sugar Pancake Toppings
Skip the Maple Syrup: Low-Sugar Pancake Toppings
What's a decadent brunch without a warm and fluffy stack of pancakes doused in melted butter and syrup? The problem is that real maple syrup packs on the calories — 200 per quarter-cup serving and a whopping 53 grams of sugar! If you're looking to lower the sugar in this favorite weekend treat, here are some low-sugar options that also offer fiber, protein, and other nutrients.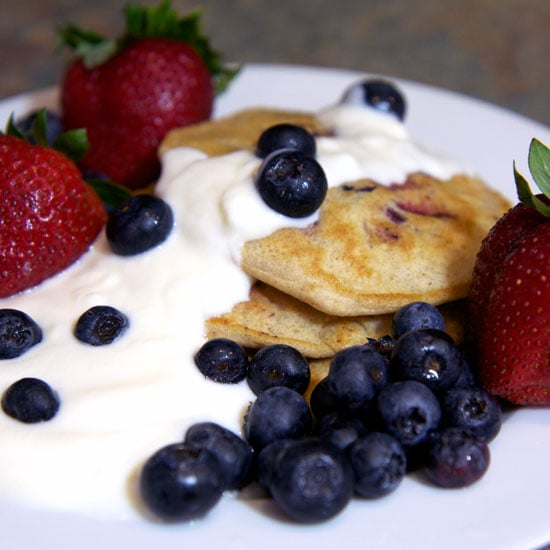 Banana: Mash half a medium-size banana and spread that on your stack. It's only 53 calories and 7.2 grams of sugar but also offers over 200 milligrams of potassium.
Fresh berries: One cup of fresh raspberries has only 5.4 grams of sugar and 64 calories but a whopping eight grams of fiber.
Maple cinnamon yogurt: Whip up a batch of homemade maple-flavored yogurt by mixing together Greek yogurt, milk, maple syrup, and cinnamon. A quarter-cup serving is 38 calories and only 4.1 grams of sugar, but you'll also be getting almost five grams of protein.
Frozen pureed fruit: Throw one cup of frozen blueberries into the blender, and pour it on your pancakes. It is 13.1 grams of sugar, has 79 calories, and also offers 4.2 grams of fiber. To make your mornings easier, prefreeze pureed fruit in ice cube trays, and you can microwave a few cubes when you need them.
Almond butter: One tablespoon of creamy nutty almond butter spread on your pancakes has only one gram of sugar, 95 calories, and 3.5 grams of protein.