Low-fat Raspberry Rhubarb Muffins
Who doesn't love summer fruit? I was thrilled to find rhubarb at the farmer's market this week, but with my new healthy diet I knew that rhubarb cobbler and pie was out of the question. This recipe was the perfect alternative. The raspberry and rhubarb flavors really shine, and the topping (applied sparingly) satisfied my sweet tooth. Best of all, each muffin comes in at only 137 calories.
Nutrition Facts:
Serving size: 1 muffin (if you make 20 total)
Calories: 137, Calories from fat: 13, Total fat: 1.5 g, Saturated fat: 0.6 g, Cholesterol: 12 mg, Sodium: 153 mg, Carbohydrates: 28.5 g, Dietary Fiber: 1.4 g, Sugars 14.6 g, Protein 2.8 g
Low-fat Raspberry Rhubarb Muffins
Modified from Sparkpeople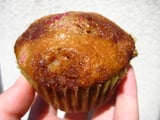 Ingredients
1 1/4 c. brown sugar
1/2 c. unsweetened applesauce
1 egg
2 tsp vanilla
1 c. lowfat buttermilk
1 1/2 c. rhubarb, diced
1 c. raspberries
1 1/2 c. whole-wheat flour
1 c. all-purpose flour
2 tbsp flax seed meal
1 tsp baking soda
1 tsp baking powder
1/2 tsp salt
Topping:
1 tbsp melted butter
1 tsp cinnamon
1/3 c. sugar
Directions
Preheat the oven to 375 degrees.
In a large bowl, mix together brown sugar, flour, baking soda, baking powder, and salt. In another bowl, mix together applesauce, egg, vanilla, and buttermilk. Gradually add the wet ingredients to the dry ingredients. Add the rhubarb to the batter. Fold in raspberries. Don't overmix! Pour the batter into muffin cups.
Stir together the butter, cinnamon and sugar. Sprinkle small chunks of this topping over the muffins. Bake for 20 minutes or until toothpick comes out clean. Makes about 20-24 muffins.
Information
Category

Breads, Breakfast/Brunch

Cuisine

North American