Lower Body Yoga Sequence Workout
Fitness Download of the Day: Lower Body Yoga Sequence
I'm pumped because this week's Get Fit For 2010 challenge is all about fitness, and there are so many different ways to get moving. Yoga is one of the healthiest things you can do for your body, and a great complement to high impact activities like running, skiing, and swimming. If you can't get to a class, check out this nine-posture Lower Body Yoga Sequence. It's great for runners looking to increase their speed, for skiers and riders looking to perfect their balance, and also great for stressed out people looking to slow down their body and create serenity in their mind.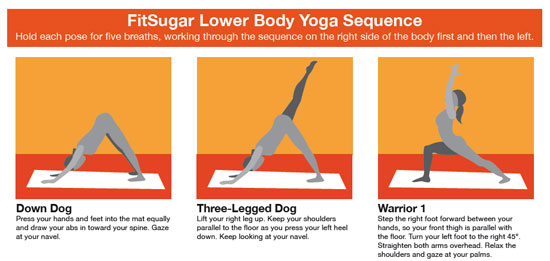 Download this PDF, print it (color looks best), and hop on your mat. I guarantee that your thighs and booty will be burning by the time you reach the last pose, Half Moon.
After you exercise, don't forget to write a fitness journal blog post in the Get Fit community group for a chance to enter our weekly prize — $100 gift card from Nike — as well as our fabulous grand prize.