Lower Calorie Starbucks Drinks and Snacks
12 Starbucks Treats For Under 250 Calories
Decadent coffee shop desserts and fancy espresso drinks can be diet killers, but there are lower calorie options if you're watching your calories and find yourself hungry on the go. Chains like Starbucks may serve up seriously indulgent seasonal drinks, but the company also lists nutritional facts on its website, so you can scout out treats that won't wreck your healthy eating habits in a few bites. I was curious to scope out the best calorie bets on the menu, so I compiled 15 Starbucks items you can snag for under 250 calories if you're ever on the go and looking for a healthier treat.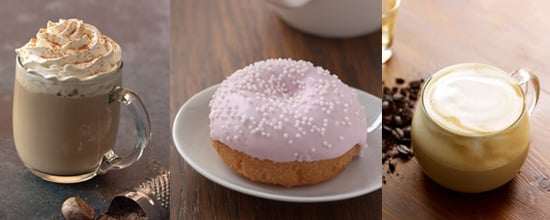 Birthday Cake Mini Doughnut has 130 calories and six grams of fat.
Marshmallow Dream Bar has 210 and four grams of fat.
Petite Vanilla Bean Scone has 140 calories and five grams of fat.
Chicken on Flatbread with Hummus Artisan Snack Plate has 250 and nine grams of fat.
Starbucks Perfect Oatmeal without topping has 140 calories and two and a half grams of fat.
Keep reading for a peek at drinks for under 250 calories.
Grande Tazo Awake Brewed Tea has zero calories.
Grande Cappuccino with nonfat milk has 80 calories.
Grande Tazo Black Shaken Iced Tea has 80 calories.
Grande Latte with nonfat milk has 130 calories.
Grande Tazo Black Shaken Iced Tea Lemonade has 130 calories.
Grande Skinny Flavored Latte has 130 calories.
Grande Caramel Macchiato has 190 calories and one gram of fat.
What lower calorie treats do you pick up when you're hungry at Starbucks?