Lululemon Hot Yoga Hobo Gym Bag Review
Gear Review: Lululemon Hot Yoga Hobo Bag
Considering my everyday handbag is large enough to carry more things than necessary, I was happy to receive the roomy Lululemon Hobo Bag ($118) for review. At 15 inches wide by 13.5 inches tall, this bag is made to fit everything you'll need before and after your workout, whether that's a sweaty Bikram class or a heart-pounding gym session.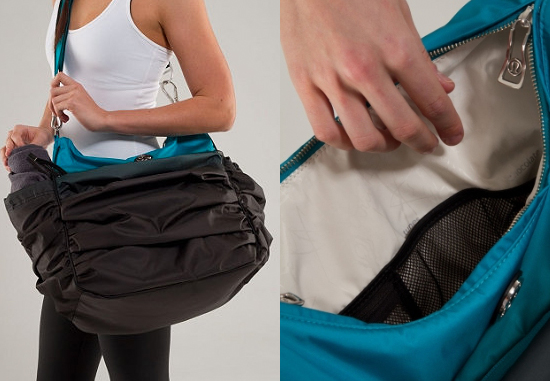 After a few weeks of trucking the bag to and from work, the gym, and yoga class, I've gotten used to being able to lug around more gear than I probably should. For one, the Hobo bag holds its shape whether it's packed or empty, which makes it easy to fill when I'm getting my gear ready at night. A surprising number of pockets and compartments makes gym organization easy too — there are three interior mesh pockets, one zippered, for small items (most pockets have a label, like "before," "after", "keys," and, naturally, "chocolate"), not to mention a strap to hold your yoga mat (it will stick out of the unzipped top). On the outside there are two large zippered compartments that can fit your clothes, and two outside pockets for anything from a yoga towel to your phone; they also have toggle ties, which will keep your water bottle from spilling. With these organizational amenities it's no wonder the bag can fit everything I need; in addition to my shoes, sports bra, pants, cosmetics bag, and multiple workout shirts, I'm able to stuff my laptop in it as well.
Read on for more on my thoughts about the Hot Yoga Hobo.
The downfall to having such a roomy, bag, of course, is the size. As a commuter, I've found that the Hobo bag is more than a little awkward to carry when I squeeze into a packed bus to and from work — and I'm sure my fellow passengers agree. Also, the bag's size means it takes up the whole bottom of a gym locker, so I can't position my purse or shoes in the locker without creating a mountain of disorganization. And since the Hobo doesn't come with handles (only a long strap, something that also makes commuting a little more difficult), I can't hang it on the hooks to give myself more room to store shoes or other items on the bottom of my gym locker. As for the yoga mat strap, I found it more comfortable to use a mat tie and put my yoga mat inside the bag without using the attached strap.
Despite these shortcomings, I'm a fan of the Hot Yoga Hobo. It fits everything you need and then some, is made with easy-to-clean and water-resistant material, and it's cute to look at — I've already gotten many compliments on it in the locker room. Anything to make me that much more motivated to make it to the gym!
The Lululemon Hot Yoga Hobo is available online in black, surge/black combo, and rocksteady royalty horizon print.