Mad Men Actress Christina Hendricks Covers New York Magazine: Hurt by the Scrutiny Over Her Body
More Than Just a Pretty Face and a Curvaceous Bod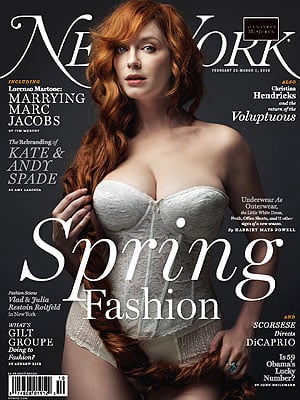 A lot of attention has been paid to Christina Hendricks since she burst onto the scene as secretary Joan Holloway in the hit television drama, Mad Men. Mention her name and the conversation inevitably leads to her silhouette. Christina is often described as a throwback to the days of Marilyn Monroe, and it's easy to see why. Her body type is more Botticelli than waif: it's as if the term "hourglass figure" was conceived just for her. In an industry of skinny, svelte, and sometimes too-thin actresses, people find Christina's look refreshing, real, and downright sexy.
On the cover of this week's New York magazine, the Botticelli comparison gets perpetuated even further. With red hair cascading past her hips, the actress appears semi-nude in a set of pale vintage lingerie. If you were to put a scallop shell behind her, you'd have The Birth of Venus in living color. Despite that legions of fans and many in the media celebrating (though sometimes criticizing) her body, Christina was not feeling the love, and for good reason.
"It kind of hurt my feelings at first," she admits. "Anytime someone talks about your figure constantly, you get nervous, you get really self-conscious. I was working my butt off on the show, and then all anyone was talking about was my body!"
It's a more than fair reaction from Christina, as any actress ultimately wants her body of work praised, not just her body. What she might not understand is that she has become a symbol of sorts. For the record, she is by no means a big girl. Perhaps we wouldn't have to celebrate (and scrutinize) women like Christina so much if there were more variety among Hollywood starlets.
So let's put the hourglass aside and focus on what's really important — the girl can act, and Christina's portrayal of Joan is heartbreaking, empowering, and infuriating all at once. Besides, when it comes to her body, her weight, her curves, and all the rest, you're not going to get much more from Christina — she is so over discussing it: "It just leaves a bad taste in my mouth."