Madonna Invests $1.5 Million in Vita Coco Coconut Water Drink
What Jesus and Coconuts Have in Common
A certain hot model isn't the only thing Madonna is loving from Brazil. The pop star also has a thing for coconut water and is putting her money where her mouth is. Madonna — along with celebs Demi Moore and Matthew McConaughey — is investing in Vita Coco, the best selling (and my favorite!) coconut water in the country. Madonna is reported to have drunk fresh coconut water every day during her Sticky & Sweet tour last year. In total, Madonna put $1.5 million toward the brand, which is the largest amount in the celebrity investor pool.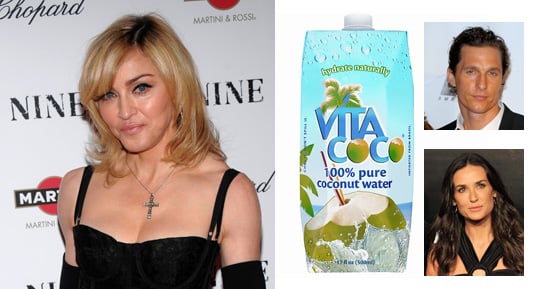 Since most brands pay for this kind of celeb power, it's nice to see them back a brand they believe in. Given Madonna's penchant for all things fitness and health, it totally makes sense that she's loving this stuff. If you remember, coconut water was my saving grace during a recent bout of food poisoning. Since then, it's become the way I hydrate before yoga and after my workouts. It's also the beverage my friend stocked her fridge with on New Year's Eve to prepare for her upcoming hangover the next day. Believe the hype, this stuff works!
To hear why Madonna loves coconut water, read more.
Coconut water is naturally brimming with electrolytes — besides containing calcium, magnesium, and sodium, one cup of coconut water contains about 600 milligrams of potassium. To put that in perspective, coconut water has more potassium than a banana and 15 times more electrolytes than most sports drinks. The plus side is that it doesn't contain all the sugar, sodium, and preservatives that sports drinks do. A 12-ounce box of Vita Coco (and most other brands) has 60 calories, 14 grams of sugar, and 35 milligrams of sodium.
I am pretty excited about this news because the added money and publicity means that I'll probably be able to find my precious Vita Coco in more stores. Right now, there are only a few health food stores near me that stock it, which means I buy it by the caseload. There are already rumblings that GNC and Safeway will be carrying my drink!