Make a Fruit Salad With Seasonal Spring Fruits
Use Seasonal Fruits to Make This Springtastic Salad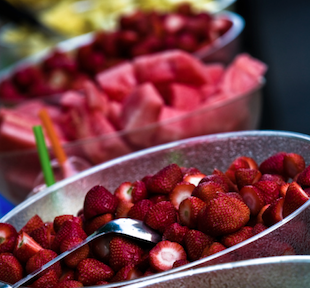 The next time you walk into a grocery store or visit your local farmers market, take a look around and hopefully you'll not only see but also smell the delicious aroma coming from a strawberry stand. For some strange reason — probably because I love them so — strawberries push me out of my cooking comfort zone by inspiring me to make such things like jams, pies, and even homemade ice cream.
Fortunately, berries are in season right now, making them widely available across the country. Strawberries also provide a multitude of health benefits, so you can eat 'em till your heart's content. What else is in season? Rhubarb, cherries, navel oranges, and watermelon. To put all of these tasty fruits to good use this Spring, here's a fruit salad recipe that surely won't disappoint!
Here's the full recipe.
Seasonal Fruit Salad Recipe
Original recipe.
Ingredients
Serves 4 people, 205 calories per serving
1/2 cup water
1/4 cup agave syrup
1 lime cut in half
16 oz. cut up strawberries (a one pint box)
3 cups thinly sliced rhubarb
1/2 large watermelon cut into cubes
2 navel oranges, sectioned
1 cup cherries
And when blueberries, raspberries, and blackberries come into season come late May and early June, you can toss some of them in too!
Directions
In a medium sized pan, boil the water and agave syrup over medium heat.
Stir in the sliced rhubarb and adjust the heat to a low setting.
Cover the pan and let the rhubarb simmer until it is soft for about 12 minutes.
Once the rhubarb is soft, let it chill in the refrigerator for about an hour.
In a large bowl, gently stir the fruit together (including the rhubarb when it's ready) while squeezing in the lime.
Refrigerate for two hours or so to ensure that all of the delicious flavors blend together!
Information
Category

Breakfast/Brunch