Make a Healthy Lunch For Yourself While You Pack Your Children's Lunch Box
While You're at It, Pack Yourself a Lunch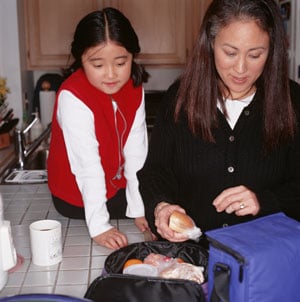 Some of life's lessons need to be taught over and over again. For me the importance of packing a healthy lunch is one of them. Riding on the back-to-school momentum, I thought I would remind you all (like I was reminded by a dietitian at a mommy and kids Luna Bar nutrition event) to make yourself a lunch. Especially all you mothers out there.
Every mother is a working mother. Whether you spend your day behind a desk or behind a steering wheel, all moms need proper fuel to make it through the day. Oh how low blood sugar can make a mom snap! If you're driving around all day erranding in between drop-offs and pick-ups, soccer practice, and ballet lessons, you need lunch, too — even if it's not a scheduled hour. When packing lunches for your brood, make a lunch for yourself and keep your freshly packed midday meal with you for when the hunger pangs start. While your palate might be more sophisticated than you kids, you can always fill your lunch box with leftovers from the previous night's dinner. In a pinch, peanut butter and jelly on whole wheat bread with carrot sticks is better for you (and cheaper) than drive-through.
Did you pack yourself a lunch for today? Tell me, what's in your lunch box?