Make Hot Cereal Using Whole Grains Like Quinoa, Farro, and Brown Rice
A Warm Breakfast Doesn't Stop at Oatmeal
Last week I made a really yummy breakfast quinoa using a recipe from FitSugar reader leens824. Not only was it delicious, it reminded me that when it comes to warm, hearty breakfasts and whole grains, oatmeal isn't the only option. Check out some of the things I do at home to incorporate different whole grains into my breakfast.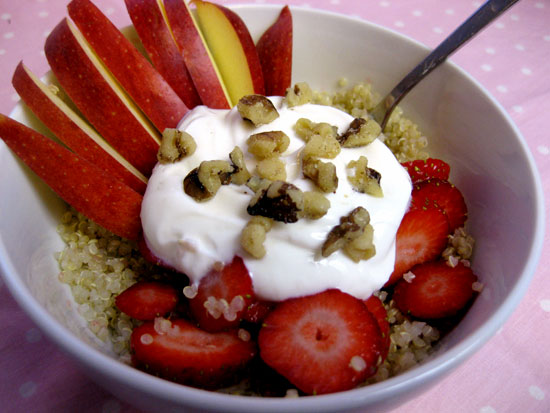 Brown rice. I love using leftover brown rice to make a bowl of warm porridge in the morning. I add a decent amount of lowfat milk to brown rice and cook that over low heat for about 20 minutes. When it's almost done, I add a touch of honey, cinnamon, raisins, and fruit.
Whole grain, stone ground polenta. A fine grain polenta makes a great breakfast — it reminds me of a better version of Cream of Wheat. I make a really creamy polenta and then add milk, brown sugar, and crushed almonds to the mix. Delicious!
Amaranth. If you're not a fan of quinoa but want a good source of protein, try amaranth. It tastes great warmed with maple syrup, pumpkin puree, raisins, and a little rice milk.
Farro. Instead of using water to cook the farro, substitute lowfat coconut milk. Once a majority of the coconut milk is absorbed, add a pinch of salt and fresh mango.
What I hope you're getting from this is that almost any whole grain makes a great hot bowl of cereal in the morning. Just prepare the grain the way you normally would and then add all the fixings, much like you do with oatmeal. Or as I do in the case of farro, cook the grain in lowfat coconut or regular milk to give it an added dimension of flavor. While all whole grains are good sources of fiber, vitamin E, iron, manganese, and zinc, they are not created equally. Some have higher levels of protein — like amaranth and quinoa — but others are antioxidant powerhouses, like barley. Start experimenting with your morning cereal and see which one works best for you!