Make Push-Ups More Challenging by Adding Decline
Push Your Push-Ups: Add Decline
If you want a strong, sculpted upper body, you have to make friends with the push-up. Raising and lowering your own body weight targets your arms, chest, upper back, and core, and because you can do them anywhere, push-ups are a great move to include in your regular strength training routine.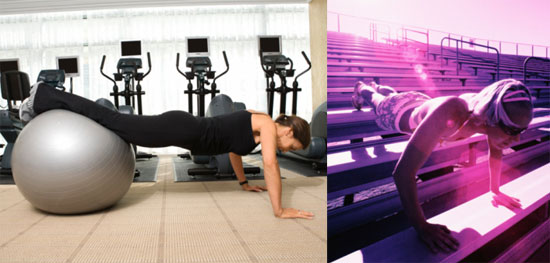 Put a little zest into the age-old exercises by doing them with a decline. Simply put, you need to be in a plank with your feet higher than your hands. Try raising your feet up using a short step, a bosu, a bench, or an exercise ball. When your legs are lifted, it puts more weight forward into your arms and chest (kind of like when you used to play wheelbarrow as a child), making you work harder. Keep correct form with your body in one straight line, your abs engaged, and your shoulders over your wrists.
Do you already add decline to your push-ups?