Make Sure Your Bike Fits Your Body
Simple Ways to Make Sure Your Bike Fits Your Body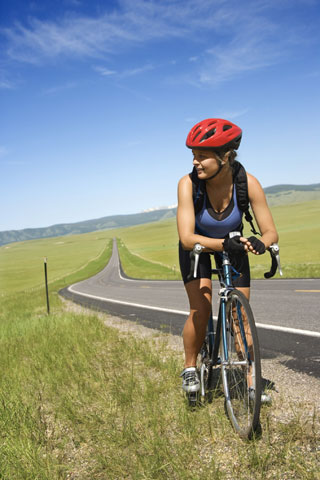 The merry month of May is also National Bike Month. So hop on your bicycle to celebrate. Don't worry if it has been years since you pedaled about town, because the good thing about cycling is it's just like riding a bike that you never forget how to ride one. However, the proper fit can make your return to two wheels much more pleasant. Here are few simple ways to size up your cycle.
Bike Height: Let's start with the bike itself. You should be able to stand over the bike without making contact with the top tube while both feet should be on the ground. If this is not the case, the bike is probably too big for you, and this can compromise your safety.
Seat Height: Adjust the seat of the bike so when you're pedaling your knee is just shy of being totally straight on the down stroke. Your knees should never lock! If this seems too simple, there are at least three different equations for determining seat height should you feel like crunching some numbers before your next ride. My inner geek finds these methods fascinating, but I just measure the height with my knees.
Saddle Comfort: Saddle is "bike-speak" for seat. You want a saddle that cradles your pelvic bones. You might think a cushy, soft seat is the way to go, but these can restrict blood flow due to compression and cause unwanted numbness. We like the leather saddles by Brooks. They're good looking, stiff, and mold to your bum.
Bike Helmet: You want your helmet snug but not too tight; if it's too small you can end up with a headache. You can customize the pads on the inside of the helmet to get a sweet fit. Do make sure the chin strap is not too loose; you should only be able fit one finger between your chin and the strap.
Enjoy the ride!