Man Suffers Cardiac Arrest at LA Marathon; Stars Like Shia Labeouf and Audrina Patridge Compete
Triumph, Tragedy, and Star Power Color the LA Marathon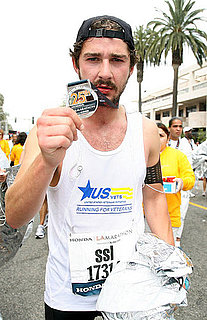 The stars were out on Sunday for the 25th annual Los Angeles Marathon: Shia Labeouf, Sean Astin, and Gordon Ramsay joined almost 25,000 runners on the 26.2-mile journey that went from Dodger Stadium to the Santa Monica Pier. Audrina Partridge even ran a couple of miles for charity. And while it was a mostly celebratory day, the Los Angeles Times reports the unfortunate news that a 21-year-old man suffered full cardiac arrest during the 18th mile of the run.
The young man remains in critical condition — doctors say he is breathing and has a pulse, but is currently unconscious. Thirty-one other runners were also taken to the hospital to be treated for various ailments that include fatigue, chest pain, and dehydration. The lasting effects that running long distances has on your heart are up for debate, but one thing is certain — running a marathon is very stressful on the body and can cause it to go into emergency-repair response mode. To avoid any dangers, check with your doctor if you're thinking about competing and give yourself at least four months to train.
Kenyan teammates Edna Kiplagat and Wesley Korir finished first in the women's and men's race, respectively. This is the second year in a row that Korir has won the marathon.