Manduka Mat PRO Squared Review
Yoga Splurge: Manduka Mat PRO Squared
Yoga styles may vary greatly, but one thing is constant — look down and everyone is standing on a rectangular-shaped yoga mat. Well, not anymore. Manduka sent me its PRO Squared ($360), and it's just that, a perfect square — 78 inches by 78 inches, to be exact (a typical mat is 26 inches by 71 inches).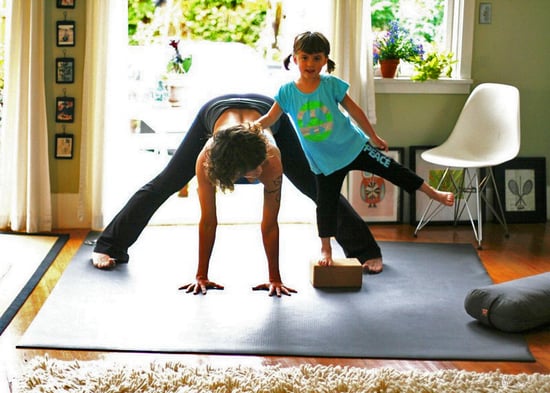 This generously sized mat is made from the same quarter-inch-thick material as a regular Black Mat Pro, giving you the same durable, dense, and slip-resistant cushion of the original, but there's a lot more space. Go ahead and flip into Wild Thing from Down Dog, or practice your Forearm Stands without worrying about falling off your mat. Or grab a friend and do some Partner Yoga — there's room enough for two.
Because of its size and weight, the Manduka PRO Squared won't easily roll up and fit in a bag. Instead, it's meant for a home studio (I found that it's impossible to walk by it without hopping on to practice some Sun Salutations or Handstands). The roominess is more inviting and inspirational than a regular-size mat, and the extra space makes me feel free to sprawl out and flow playfully through poses that I'd normally have to step off my mat or turn my body to do. My practice on the PRO Squared feels so much more fluid, my breath smoother, and my mind more open.
The Manduka PRO Squared is a definite splurge, especially since you will need another mat if you like traveling with a mat or attend classes. But it may be worth it if you have the floor space at your home or office and love to practice on your own. You can feel good knowing it will last a lifetime (or two)— it's that durable, which means fewer mats ending up in landfills. And in the grand scheme of things, $360 may not seem so much when you spread it out over 30+ years. If you still feel like it's too much to spend on yourself, it might be just the thing to put on your next birthday wish list. This mat is sure to take your practice to a deeper, more creative level.