Mandy Ingber in More Magazine Talks Jennifer Aniston and Yogalosophy
Mandy Ingber Talks "Yogalosophy" in More Magazine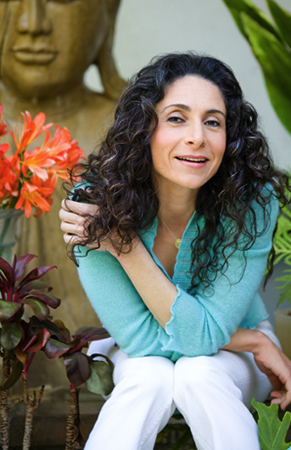 Mandy Ingber is one of the most popular yoga teachers in the country. And with a celebrity client roster that includes Jennifer Aniston, Helen Hunt, and Brooke Shields, her popularity isn't waning anytime soon. More magazine recently sat down with Mandy to discuss her modern approach to yoga, what it's like to work with Jen, and why hip-hop yoga isn't as horrible as you'd think. Here are the highlights:
On life before yoga: "I had been an actress, things shifted in my life, so at about 28, I became a spinning instructor. It quickly became obvious that I had something that people wanted. People said my spinning classes were like yoga classes on a bike. I would start off by setting an intention, as you do in yoga classes, bring people back to their breath, and try to connect people to the bigger picture."
On her own fitness regimen: "I do some version of cardio 30 to 45 minutes three to five days a week, plus 30 to 60 minutes of yoga four days a week. I take two spinning classes a week."
To see what Mandy says about working with celebrities and where the yoga movement is going, read more.
On working with celebrities: "As a teacher you have to go in with a clean slate, no preconceptions as to who someone is. With a celebrity there's a whole story that comes with him or her. As an instructor, you have to go with their energy and ignore that story. At the same time, actors are often good at mimicking things so they may learn fast. Jen is good at yoga naturally, and at mimicking. Also, celebrities have eyes on them all the time, which makes them especially motivated to exercise."
On why yoga is so popular: "There's a real connection to the body, there's a real relationship. I look at myself when I'm in plank position and say, 'I'm strong, I'm good.' I give joy to the creator when I do something for my body. My body is sacred and part of my duty is to use it. Just consider how lucky you are to move, breathe, feel. There's no way you can't express gratitude for that."
On where yoga is going: "I think the trend is making yoga more accessible to whomever wants to participate. Now there are so many different offshoots, there's something for everyone. It can be more fun, as with hip-hop music. Another trend is for people to explore more subtle aspects of yoga, like meditation. And to look into other practices that influence your energy, like qi gong."