Mandy Ingber Says Yoga Helped Her Through the Death of Her Father, Recommends Child Pose For Heartbreak
Mandy Ingber's Yoga Pose to Heal a Broken Heart
Dealing with a breakup or the loss of a loved one can be an incredibly painful experience to go through. I deal with heartbreak by increasing my workout schedule — exercising produces endorphins, after all. But when the pain is too much to bear, I turn to yoga. Mandy Ingber — yoga instructor to Jennifer Aniston — told BounceBack that yoga helped her cope with the death of her father. A recent study even suggested that yoga produces higher levels of "mood improvement" in participants than other types of exercise. If you are going through a difficult period in your life, Mandy recommends Child Pose.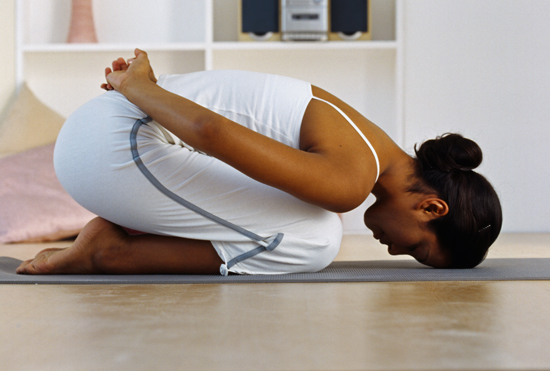 "It is humble. It is restorative; it calms the nervous system and stretches the back. They say that backbends are heart openers. For me, the last thing I want to do when I am heartbroken is open my heart more! Anything forward-bend is pretty calming. Sometimes though, when there's a lot of anger, Sun Salutes rock. Getting that anger to move OUT."
Has practicing yoga ever gotten you through a difficult period in your life?