Marathon Training Advice From the Nike Women's Marathon
Training Tips From Runners of the Nike Women's Marathon
Last Sunday, Oct. 14, was the ninth running of the Nike Women's Marathon (NWM), and it's fast becoming a San Francisco institution. Over 25,000 runners took to the city's hilly streets, running past the Golden Gate Bridge and along the coastline. The energy of the race is like a girls weekend, but with serious mileage thrown into the mix.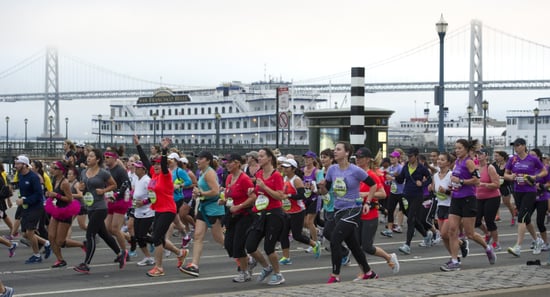 Tackling the double-digit mileage of a half or full marathon is daunting, but definitely doable — especially when runners share training tips and advice. I spoke with several women at the Nike Expotique, who were not only stoked to be running the NWM, but were also all happy to share pieces of training advice they learned while prepping for the race. Get inspired and read their recommendations.
Friends
Many of the runners emphasized the importance of training with friends. Logging long miles for a half or full marathon is easier if you're sharing them with a running partner or two or eight — the more the merrier.
After going solo last year at the NWM, Taylor, a student at Cal Poly, rounded up a group of pals to work out with her. "Running with friends makes it so much easier to train."
Amanda from Oklahoma City seconded the sentiment. Her motivation for sticking with training was a resounding "Friends!"
Nancy from Juno, AK, relied on her pack of pals to stay motivated. "Find some friends to train with, to keep you on track, and motivate you to run in the rain."
For Sarah from Napa, CA, having company was especially important on the long runs. "Find someone to do the long runs with you so you will get up on Saturday morning and get it done."
More advice on cross-training and how to keep it fun after the break.
Cross-Training
Simply running is often not enough to keep your training on track. For some, just running feels monotonous, and for others, it leads to injury.
Brianne from San Diego, CA, mixed it up and took a lot of Barre Method classes. "It was great for strengthening my legs to keep my knees happy."
Seana from Toronto learned that cross-training also means rolling out the IT band on the outside of the thigh, and says to remember to "strength train those legs to prevent injury."
Make It Fun
Finding the fun in running is key to make the training process enjoyable. Music and mantras are two motivational sources.
Sarah from Spokane, WA, suggests "making a good playlist and mix it up as far as where you're running like hills or tempo runs, try to mix it up rather than just go out for a run, and set a goal."
To keep it fun, Deanna from Nashville, TN, adds, "It doesn't matter how slow you go — just put one foot in front of the other." This works well as a mantra to help keeping you moving forward.
"Mix it up with trails and pavement to keep it fresh," says Erin from Juno, AK. And yes, she has encountered bears while trail running, which is a reason she likes to run with friends. She adds, "Don't run from the bear. Raise your arms and try to look big."
Rest Days
Training is not always about being active either: taking well-deserved rest days are important to making it across the finish line.
Angie from Boulder, CO, advises to "take rest days. Watch your fave shows and take a much longer shower" on those lovely days off.
Michelle of South Lake Tahoe, CA, echoes Angie's advice. "Listen to your body." If you need to go slowly, go slowly. If you need to ice, then by all means, ice.
And a rest day might just be kicking back with an adult bevvie. Casey, also from of South Lake Tahoe, CA, urges runners to "get one long run in a week. And one glass of wine after that long run." Nothing like chilling with your feet elevated, sipping some wine after a satisfying long run.
Have a Plan
When it comes to endurance races, having a training plan is a must. You need to build your mileage slowly and consistently.
"Train hard. Warm up well," advises Carmen, a runner who came all the way from Puerto Rico to participate in the race.
Natalie of San Luis Obispo, CA, says, "Follow your plan. Be consistent. Slowly build your mileage, and it's easy." Her plan added one mile a week to the long run, which felt doable to her.
Marjorie from Juno, AK, believes in sticking to a training plan. "Stay on schedule. Get those long runs in."
Whether you've run the Nike Women's Marathon or another long-distance race, we want to hear your advice, too. Please share your training tips in the comments section below.
Source: Nike Inc.