Marathon Training Side Effects
Marathon Training Is Full of Fun Surprises
With some of the most major marathons of the year just weeks away, first-time marathoners are bound to come across some fun surprises in the final weeks of training. I ran a marathon in 2008 and found all kinds while training. Here, a list of some of my "favorite" unexpected surprises that I'm sure many of you first-time and seasoned marathon runners can relate to: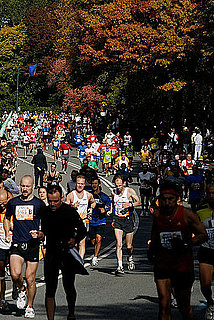 Weight gain With the mileage you're running, it seems counterintuitive that you'll gain, but the amount of muscle you're building (not to mention the amount of food you're eating) is helping to fuel your body for the race. I ran my marathon nearly five pounds heavier than my weight at the beginning of my training.
New pants! Along with weight gain came a major change in my legs and hips — they actually got wider! My changing shape meant I could only wear two pairs of jeans during the last month of training; all of my others were too tight!
Your closet = running shoe cemetery I went through three pairs of shoes while training, but didn't want to throw them away. . . I was actually emotionally attached! I've since managed to recycle all but the pair I used in the race.
Ravenous appetite My co-workers joked that I was always eating, probably because I was! Breakfast, snack, lunch, snack, after work snack, dinner, snack. . . it was never ending!
There's more! Check out the rest after the break.
Beer cravings A good brew is actually a decent reward for a hard run, but I found myself actually craving the stuff. At least it helped with motivation!
Gel packs start to taste good When I started training, I couldn't stand the taste of those overly sweet energy gel packs I took on long runs. By the end, I got especially excited on vanilla bean day.
Toenail . . . situations I didn't actually lose toenails during training, but I did after the race. Luckily I knew to expect this, but when it actually happened, it did completely gross me out.
Have you experienced any of the above in your own training? Are there any I forgot? Please share your experiences!