Marc Jacobs Lock: "Don't Fuck With My Shit"
Your Gym Must Have (Seriously): Jacobs by Marc Jacobs Lock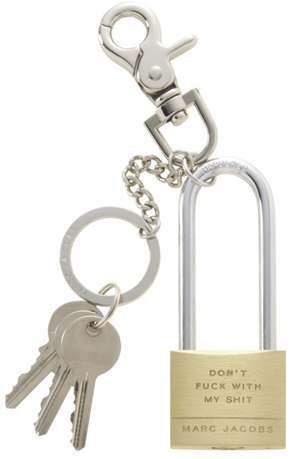 I knew that I made the wrong decision the minute I walked out of the Marc by Marc Jacobs store — thankfully it wasn't a case of buyer's remorse! I passed on buying a lock that I can't stop thinking about days later, but I don't know if I can justify the purchase since I already own a Wordlock. It's perfect though, and its in-your-face message is especially apropos given the rise of locker-room theft. Engraved over the face of the brass padlock (in the ever-recognizable Marc Jacobs font) is this simple message: "Don't F*** With My S***." Offensive? Maybe. Awesome? You bet.
The $32 lock is part of the Jacobs by Marc Jacobs collection and is only available at Marc by Marc Jacobs retail stores. If you don't live near a retail location, the stores will take phone orders and ship the product to you. For those already in lust mode the gent I spoke to at the San Francisco store told me that there are only 443 of these locks left nationwide. Who's rushing to their nearest Marc by Marc Jacobs store with me?