Margaret Cho Did Not Exercise Until Joining Dancing With the Stars
Take It From Margaret Cho — It's Never Too Late to Exercise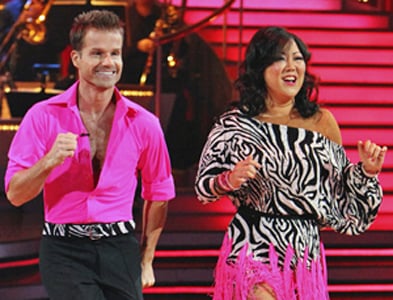 Audrina Patridge isn't the only one feeling the effects of Dancing With the Stars in her entire body. Margaret Cho is getting a full-body workout, too, and it's for the first time — ever! The comedienne-actress, 41, told People that competing on DWTS is her first introduction to exercise: "I'm so into it. I've never worked out — never. Now that I've been moving, I realize how good it feels."
Margaret hasn't been weighing in her progress — perhaps taking a cue from former contestant Kelly Osbourne? — but she definitely sees and feels the difference: "I can see it in my face. I can feel it in my whole body. I have lost a lot of weight." And just like Kelly, Margaret says she is sticking to her newfound love of exercise when the show ends. Margaret and Kelly both have the same dance partner in common, Louis van Amstel. I'm thinking he might be some kind of motivator!
The takeaway: it's never too late to start exercising. So if you've been playing with the idea of joining a gym, hitting the trail, or heading out for a walk, now is the time!
Photo courtesy of ABC