Marianne Williamson A Course in Weight Loss Tips
5 Lessons Learned From A Course in Weight Loss
At the heart of her mission, best-selling author and speaker Marianne Williamson urges people to choose love over fear — and get very self-aware in the process. Marianne's book A Course in Weight Loss: 21 Spiritual Lessons For Surrounding Your Weight Forever looks at the deep connection between spirituality and weight loss, while providing concrete exercises to complement the journey in order to say goodbye to unwanted weight forever.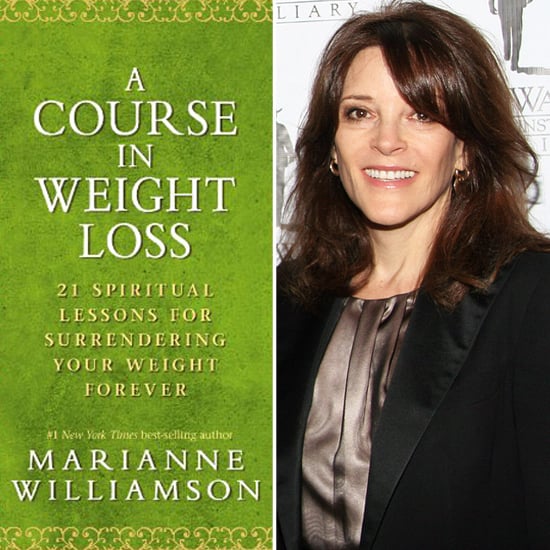 If you've grappled with issues of worthiness, weight loss, or compulsive eating, I urge you to pick up this book for some fresh perspective. While every page of this book offers new insight and advice, if you're interested in a taste of what A Course in Weight Loss has to offer, here are five quotes that really moved me.
"When you're eating excessively, you're expressing fear." Marianne urges her readers to look deep within themselves and see places where they are expressing love and where they are expressing fear. If you're a compulsive overeater, chances are you're trying to satisfy some urge unrelated to the food in front of you. Whether it's a lack of meaningful purpose, low self-esteem, or another difficult circumstance, Marianne wants her readers to make the connection between an unhealthy relationship with fearful thoughts and food.
"The Not-Thin You is not your enemy; she is an unintegrated part of yourself." This point definitely struck a chord with me. So often we look at our extra pounds as our direct adversary, but Marianne tells us to shift our perspective. Only when we love and accept our bodies for what they — all their imperfections included— can we find a healthy way to let go of extra unwanted weight and keep it off.
"It all begins with a beautiful napkin." In one of my favorite lessons in A Course in Weight Loss, Marianne talks about starting a love affair with food. Simply buying a beautiful napkin for yourself can help build new healthy rituals around mealtime. Marianne also believes that quick eating along with disposable napkins and plates are out of the question. By creating new mindful, beautiful rituals around mealtime, you'll be able to let go of negative patterns from the past.
For two more lessons learned from A Course in Weight Loss, keep on reading.
"Your body wants to move." If you find yourself falling victim to the comfort of your couch and take-out when you're sad or stressed, it's time to listen up to your body and make moves! Whether we're speaking about your clothing, your head, or your heart, movement and exercise will truly make everything feel a little looser and lighter.
"Skinny people eat too many potato chips sometimes, too." I literally laughed out loud when I read this sentence. It's so true. Everyone has their demons, and some people have just gotten a grasp on what's going on underneath. No one is perfect, and everyone indulges every now and again. The kicker? You're worthy of self-acceptance. The sooner you learn this, the sooner you'll start learning to love yourself.
Do any of these lessons resonate with you? Is your interest in A Course in Weight Loss officially piqued? Share your first impressions below!