Mark Conselos Responds to Kelly Ripa's Bikini Body Shamers
Mark Consuelos Fires Back at Body Shamers Who Said Kelly Ripa Was "Too Old" to Wear a Bikini
Kelly Ripa's a freakin' smokeshow, y'all. At 47 years old, the television personality has perfectly sculpted arms and abs that could shred an entire block of cheese. So, naturally, when she and her husband Mark Consuelos went on a tropical vacation, she rocked an itsy-bitsy bikini that put her bangin' bod on display. Mark couldn't resist showing off his fit wife with the world, as he snapped an envy-inducing photo of her wading through crystal-clear waters in her two-piece with the caption, "Sultry Sundays with the sexy one are my fave."
And they lived happily ever after . . . right? Ha, think again. For whatever reason, Mark's Instagram snap of Kelly attracted a host of haters who flooded the post with nasty body- and age-shaming comments. Some people suggested that she's "too old" to be wearing such a revealing bikini, while others claimed she has the "body of a boy." Of course, Mark didn't let the jerks get off the hook without offering up his two cents on the matter, and his response is worthy of a standing ovation. "I wanted to take a couple days to weigh in. Probably should've earlier arguably. But I wanted to be above it. Well, now I'm not," he wrote in a comment on his Instagram of Kelly in a bikini.
He continued, "I posted this pic of the women I most admire. As a playful tribute to my wife who works extremely hard in her professional life and her commitment to exercise, healthy diet is admirable and the benefits show." The Riverdale actor went on to defend Kelly against those who suggested she's too old to wear a two-piece bathing suit, writing, "Yes she's wearing a bikini at age 47 and will no doubt wear one for many years to come. If that offends you in some way, if it triggers you, or some other psychosis you're suffering from, I suggest you get over it and get used to it." You tell 'em, Mark!
He wrapped up his rant with a threat to "all the males" that negatively commented on Kelly's body: "I suggest you bring it up with me if ever I'm lucky enough to run into you." Daaamn! Mark added in an adorable shoutout to Kelly in the comment too, writing, "I love you @kellyripa . . . keep killing it."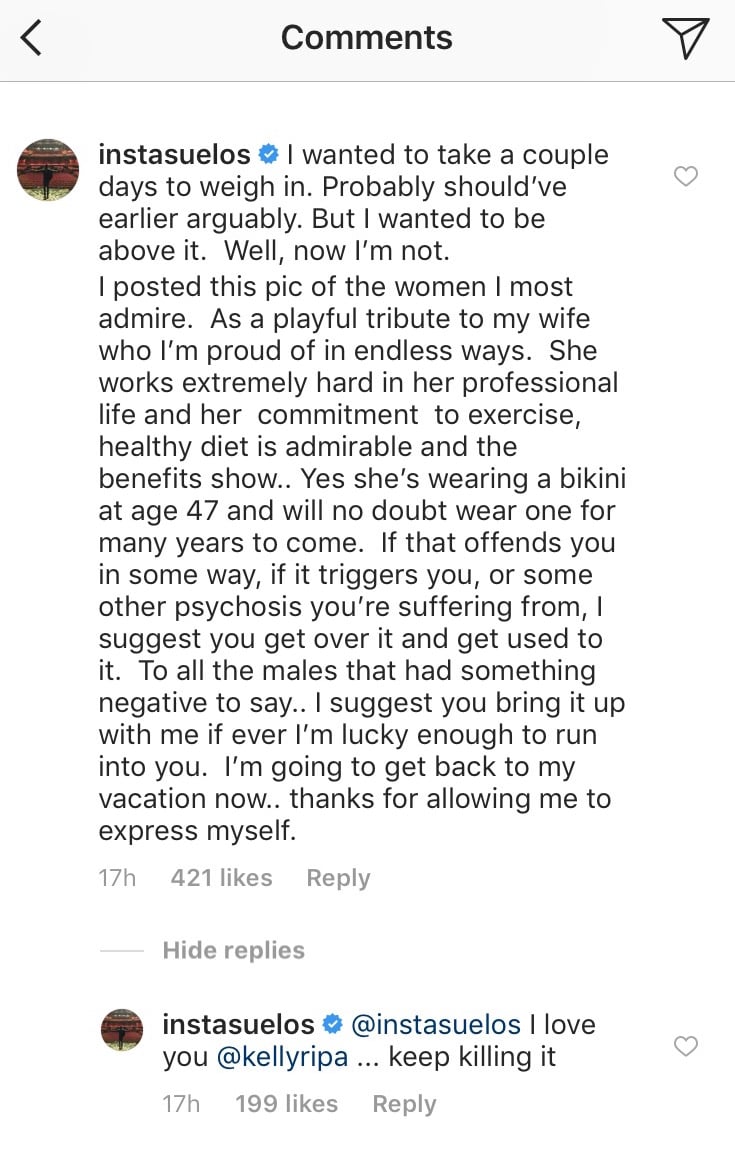 And, cue the mic drop. Bottom line: don't even try messing with Kelly Ripa, because Mark Consuelos will come for you.