Martina Navratilova Diagnosed With Breast Cancer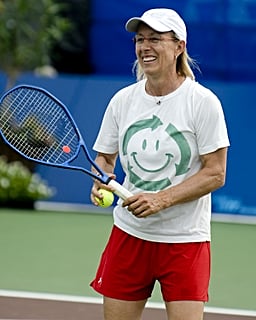 Nine-time Wimbledon tennis champion Martina Navratilova revealed on Good Morning America this morning that she has breast cancer.
Martina, 53, was diagnosed in February with an early form of breast cancer called ductal carcinoma in situ (DCIS). DCIS starts as a growth of cancerous cells in the milk ducts, and thankfully in Martina's case the cancer did not spread to actual breast tissue. The tennis star underwent a lumpectomy in her left breast to remove the cancer and will begin six weeks of radiation therapy in May. With early detection and treatment, DCIS has an almost 100 percent survival rate. Martina told Robin Roberts that she was devastated at the diagnosis: "I'm this healthy person, I've been healthy all my life, and all of a sudden I have cancer. Are you kidding me?"
Martina said she skipped out on her annual mammogram for several years but was lucky that the cancer was still detected early. The tennis legend urged women to get checked regularly, posing a challenge to the new guidelines for breast exams put forth by the U.S. Preventive Services Task Force late last year.
Martina is a legend in her sport, excelling in singles, doubles, and mixed doubles competition, winning 18 Grand Slam singles titles, 31 Grand Slam women's doubles titles, and 10 Grand Slam mixed doubles titles.