Mason Jar Breakfast Recipes
Can It! How a Mason Jar Makes an On-the-Go Breakfast Healthy
It's almost 9, you're running late for work but still haven't had breakfast. Suddenly, your healthy eating mantra is out the door and you're next in line for an almond croissant and a caramel-frappe-mocha whatever. You're only a few pastries away from a muffin top, but luckily, the answer to your workweek breakfast dilemma is as simple as a mason jar.
Green Smoothie on the Go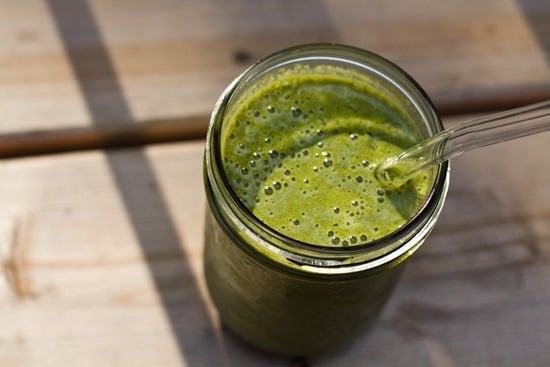 Instead of grabbing a sugary coffee drink to go, make yourself one of these healthy smoothie recipes; it's an easy way to get a lot of nutrients into a single serving. The wide mouth of a mason jar can handle even the thickest and chunkiest smoothie when you're on the move. If you don't have time to blend one up in the morning, use this ice-tray trick to freeze a batch earlier in the week. Before going to bed, drop your frozen smoothie cubes into a mason jar, stick it in the fridge, and you'll have a chilled drink waiting for you in the morning!
Granola-Yogurt Parfait

See more healthy breakfast ideas — including overnight oats — after the break!
Yogurt parfaits make for a filling breakfast, but store-bought versions are filled with unnecessary sugar. Instead of spending money and wasting calories, make your own. First start with some plain Greek yogurt; cut up your favorite fruits, grab some granola and nuts, and start layering! In just about 10 minutes, you'll have breakfast for the week.
Overnight Oats


Skip instant oatmeal and warm up a jar of steel-cut oats for your next breakfast. Follow this easy recipe for overnight oats, but instead of leaving the oats in a pot overnight, transfer to a few mason jars. All you have to do the next day is microwave your jar of oats and add in the healthy mix-ins! The recipe is enough for about five servings, meaning you'll have a fiber-filled breakfast all week.
Source: Oh She Glows, Eating Bird Food, Flicker user Stars Apart