Massage Your Feet With a Tennis Ball
Relax Anywhere: Achy Feet
I've been way into hiking and running lately, and my feet are taking the burden. My achy tootsies could use daily foot massages, but unfortunately my hubby doesn't agree. If you're suffering from sore feet, whether it be from exercising or being on you feet all day, give this technique a try. All you need is a tennis ball or racquetball.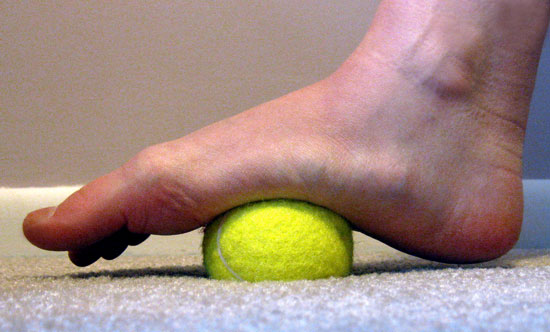 Here's what you do: While seated, place a tennis ball under the ball of your foot. Roll the ball back and forth under the arch of your foot several times. Pay special attention to the areas that hurt, and don't forget to massage your heel and the ball of your foot. Use as much or as little pressure as is comfortable for you. I usually do about a minute under each foot.
That's it. I promise it will ease those tired feet. Also, if you know you're going to be walking a lot on your next vacation, throw a tennis ball in your suitcase. Feet ache after a long day at work? Keep a tennis ball in your desk for a mid-day massage. Try it and let me know what you think.