Matt Damon Bike Riding With His Family Pictures
Exercise With the Fam Like Matt Damon
Holy cuteness! Now I love Matt Damon even more for showing his loved ones how important it is to stay active by heading out for a family bike ride in Vancouver. When you get moving together, not only do your children learn that exercise in an important part of life, but it also encourages the grown-ups to fit exercise into their busy schedules.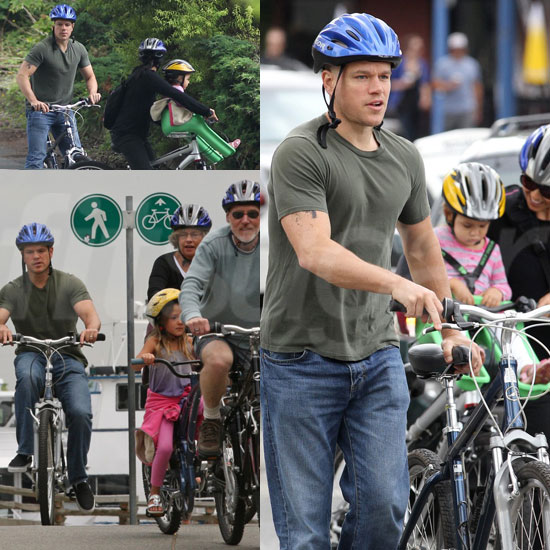 Aside from renting bikes and touring around a new place, there are so many other ways you and your family can get out together and burn some calories.
If your kids are too young to walk, plop them in a jogging stroller, bike trailer, or backpack carrier and head out for a walk, run, ride, or hike. They'll feel calm watching the scenery whiz by, and you'll get in your workout.
Rent kayaks or canoes and paddle along a calm lake or river. It's a great way to avoid the, "Mom, I'm soooo hot," comments. If you get overheated, just jump in.
Put up a net in the backyard and keep volleyballs and a set of badminton rackets and birdies on hand. After dinner, head out for an impromptu game.
Keep reading for more fun family fitness ideas.
Meet some other families at your local park and do a mini Summer Olympics complete with a potato sack race, hula hoop competition, limbo, and a water balloon toss, of course.
Set up a scavenger hunt. If your kids aren't old enough to read, just draw pictures or put photos on the cards of items in and around the house for your tots to find. If they can read and are old enough, send them out to places and things that are on their street they can walk or ride their bikes to. Or you can give your kids a list of things to find while out on a family hike.
Inquire at your local yoga, gymnastic, or dance studio for family classes. I signed my daughter and I up for baby yoga, and now I often catch her springing into a spontaneous Down Dog on the floor at home.
Sign the fam up for a family fun run. These races are usually a short distance (a mile or less), and the emphasis is on having a good time outside with the people you love.
Take the dog for a walk in the woods — your pooch could use the exercise too.
Ride your bikes to the park and toss around a frisbee for a half hour.
Head to the driving range, rent a bucket of golf balls, and let the family practice their swings. This may spark a love of golf, so as your children get older, they'll want to join you for tee time.
Hit a water park. Walking around all day from the log flume to the water slides definitely counts as exercise. Just be sure to pack your own snacks and meals instead of hitting the park's high-priced, high-calorie foods.
Feel free to share some other family fitness ideas on the comment section below.