Meat- and Milk-Free Meal Plan
Weekly Meal Plan: Vegetarian and Dairy-Free
Always battling with the same question every night — what to make for dinner? If you're eating meat-free and also avoiding dairy products, without a plan, you're more likely to skip preparing a healthy dinner and opt to make a meal out of chips and hummus. You deserve better! Here's a five-day meal plan featuring delicious, filling, and nutritious vegetarian meals that are made without cheese or other dairy products. To make things easier, a grocery list for each meal is included. Stock up on Sunday so you know exactly what's for dinner this week.
Monday: Polenta and Beans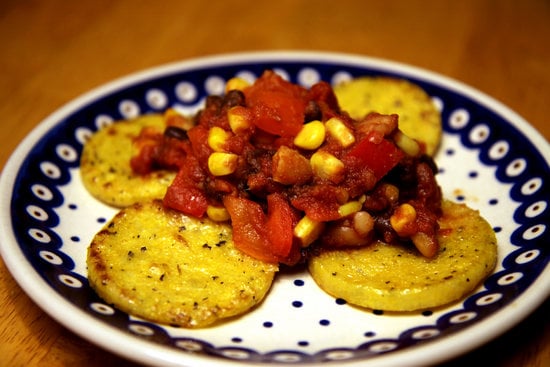 What you'll need:
1 teaspoon olive oil
2 tubes polenta
2 cloves garlic
1 can black beans
1 box Pomi chopped tomatoes
1 red pepper
2 cups frozen corn
1/2 teaspoon cayenne pepper
Continue reading for the rest of the week's healthy menu and grocery list.
Tuesday: Kale and Edamame Salad

What you'll need:
3 tablespoons lemon
4 tablespoons olive oil
1 garlic clove
3/4 teaspoon dried Italian herbs
1/4 teaspoon kosher salt
4 cups chopped kale
1 can of chickpeas
2/3 cup dried cranberries
1 cup edamame
1 handful of fresh mint
1 handful of fresh basil
Carrot shreds
2-3 cherry tomatoes
Wednesday: Quinoa Sweet Potato Cakes

What you'll need:
1/2 cup quinoa
1/2 cup lentils
1 red pepper
3 tablespoons red onion
2 tablespoons ground cumin
1 tablespoon chili powder
1/2 teaspoon salt
Pinch of black pepper
1 cup mashed sweet potato
1 jar of salsa
Thursday: Tofu, Tomato, and Basil Quiche

What you'll need:
1 tablespoon olive oil
1 block firm tofu
1 teaspoon chopped garlic
1 leek
20 grape tomatoes
3 eggs
3/4 cup plain soy milk
1/4 cup fresh basil
1/8 tsp pepper
1/4 cup dairy-free shredded mozzarella cheese
1 premade whole wheat pie crust
Friday: Balsamic Portobello Burgers

What you'll need:
1/4 cup olive oil
1/4 cup balsamic vinegar
3 garlic cloves
1 red pepper
8 portobello mushrooms
4 whole wheat hamburger buns
4 lettuce leaves
1 tomato
1 container of Tofutti spread (optional)