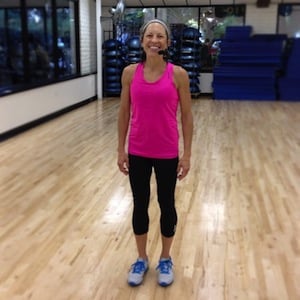 The sport of fitness has arrived, and so has the sport of fashion. It seems that the sport of CrossFit has been popping up everywhere lately. Along with it, so has Reebok's new line of training shoes and workout-ready gear. I recently got my first pair of Reebok RealFlex Fusion TR shoes, designed to let your feet move in a natural way during training.




As a fitness professional who teaches multiple classes a day, I'm very picky about training shoes. These shoes do exactly what they claim to do with the lightweight, flexible design. They're very comfortable, which is key with workout shoes. The technology of the flex nodes allow for natural multidirectional movement.




The combination of the lightweight feel, along with the flexible support, is perfect for high-intensity classes and a variety of movement. I've been wearing them for step classes, BOSU classes, HIIT workouts, and even for weight training. They are currently on the top of my list for cross-training shoes, although I did just customize my own design for a new pair of CrossFit Nano 2.0 shoes. I can't wait to get my hands on those.
Keep reading for more tips on CrossFit and using Pinspiration for fitness.

Speaking of CrossFit, it seems to be popping up everywhere and inspiring the world. Awhile back I was introduced to CrossFit by none other than Bob Harper from The Biggest Loser. We've been filming CrossFit-style workouts for his online club. It took only one workout with him for me to realize his true passion for the sport. Since then, I have become a fan. To this day, my only CrossFit workouts have been with him coaching me. They have provided great cross-training in addition to my marathon training. Bob is my fitness hero. He inspires me each and every time I see him to work harder, get stronger, and be the best I athlete I can be. Not only does he expect a lot out of individuals he trains, but he is truly committed to helping others achieve their best.

I just started my Pinspiration board on Pinterest. My Fit Pinspiration board is a combination of my inspirational fitness hero and some amazing Reebok gear. It has my training sessions with Bob because he inspires me to push myself as far as I can. You know, sometimes it takes someone else believing in you and telling you what they expect to see you accomplish to make you realize just how capable of something you are. Sometimes it also takes seeing how far someone else's hard work and dreams have taken him or her to believe that your dreams can someday be a reality. The fitness journey isn't always easy. It's a great thing to have an inspirational hero to look up to.

My Fit Pinspiration board also has my favorite Reebok gear and technologies (that I've spent hours on the computer checking out). Not only can you can get lost in the Reebok online store, but you can also get inspired on their website by all of their athletes, the information, and the newest technology.

The Reebok outfit I've been wearing lately is from their new Fall line, the Workout Ready Collection.

The long fitted tank has the Play Dry moisture management system to keep you dry, fits comfortably, and even has some pretty stylish straps.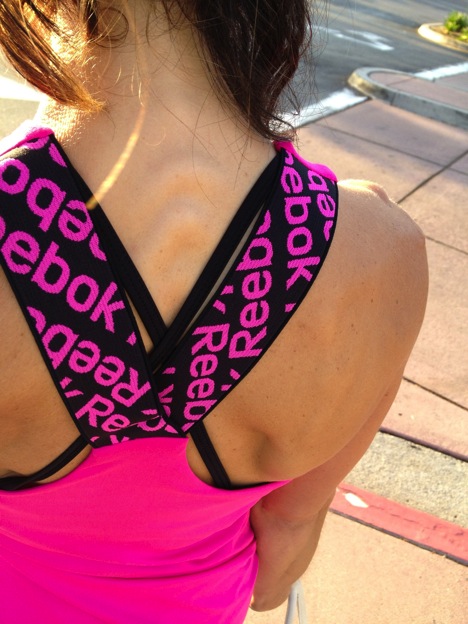 I've been trying to impress my classes with my outfit a bit.




By creating your own Pinspiration board you can enter to win a girls' weekend for two to NYC, complete with a Reebok shopping spree and a starring role in an inspirational fitness video. How awesome is that? Make sure your inspirational fitness hero is someone who personally inspires you. It should be someone in your life who could be featured with you as part of Reebok's Holiday campaign.
Here are all the details:
Fitness Pinspiration Pinterest Contest
Steps to Enter Pinterest Contest:
1) Follow Reebok on Pinterest (www.pinterest.com/RBKUSA)
2) Create a Pinterest Board titled "My Fit Pinspiration"
3) Build out your board with real-life fitness hero stories. Add a photo of your real-life fitness inspiration hero by clicking the +Add button on your board and writing a short description explaining why you have nominated them.
4) Make sure to include a collage of your favorite Reebok fitness wardrobe and technology (ZigLite, RealFlex, or SmoothFlex), pulling from Reebok's Pinterest board, Reebok.com, or Reebok.com/Custom. (Minimum 5 pins, please)
5) The board name must include Reebok and/or Reebok product names and be categorized under Fitness.
6) Hashtag each of your pins with #MYFITPIN.
7) Email reebokcontest@sugarinc.com with a link to your "My Fit Pinspiration" Board
Prize
· Trip for two to NYC for a Girls' Weekend
· Visit to the NYC Reebok FitHub and a $1000-per-person shopping spree for Reebok footwear/apparel
· Nominator and Hero will be featured as part of Reebok's Holiday campaign in a fitness-focused inspirational video, telling the story of the nomination
Doesn't that sounds like one heck of a contest? You should really start your Pinspiration board as soon as possible. It takes a while to browse through all the fun Reebok fashion and find your inspirational fitness heroes.
Kristin is an ACE certified personal trainer and group fitness instructor. Along with being a fitness professional and busy mom of toddler twins, she is an avid marathon runner, FitFluential Ambassador, health and fitness blogger, and a self-professed kitchen experimenter. She appears in BobHarper.com workouts, has been featured on Shape.com and in The Wall Street Journal, and was the County YMCA Group Fitness Instructor of the Year for 2011. She has completed numerous half marathons (with and without a double stroller), where she has placed in her division multiple times, and has run four full marathons with a PR of 3:25:33.
Her blog STUFTmama.com shares her passion for marathon running, fitness, nutrition, and leading a balanced, healthy life. It gives daily doses of inspiration, fitness, healthy food, STUFT family laughs, and her attempt at handling it all.