Megan Fox Talks About How She Loves Corsets
Megan Fox Hopes Corsets Make a Comeback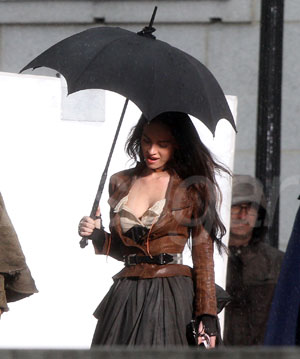 Staring in Jonah Hex, a new action Western film, is Megan Fox and her 18-inch waist. Naturally, all gun-wielding prostitutes need to have a tiny midsection, right? The actress wore an extremely tight-fitting corset to achieve her tiny waist. Megan talked waist size with MTV News, "It's small. We got it down to 18 inches. But in the action scenes, we loosened it up, because everyone was afraid I was going to pass out."
The 24-year-old actress also explained the lasting impressions left by the old fashioned garment:
At the end of the day when we would take it off, it would leave these deep grooves, these deep indents from the boning in the corset. I'd have it for the whole next day. The next 24 hours I'd be imprinted with the corset. It hurts your ribs!"
Even after admitting that her torso ached once the corset was removed, Fox still loves having her waist cinched, exclaiming,"I do think there's a place for corsets. I think they should come back. They should make a reappearance. I enjoy them, but maybe I'm sick."
I can't even wear heels for more than an hour since they hurt my feet and back, but what do you think about suffering through pain in the name of fashion? Would you wear a corset or any other type of restrictive clothing to look thinner?