Merrell Mix Master Move Glide Women's Shoe Review
Shoe Review: Merrell Mix Master Move Glide Trail-Running Shoes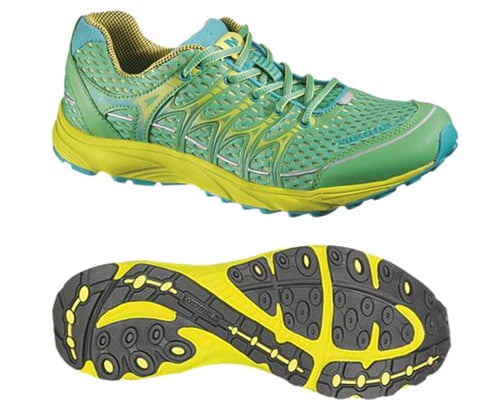 San Francisco has a seemingly endless supply of parks and trails, so when Merrell sent its newest pair of trail-running minimalist shoes I was happy to give them a try. After a few weeks running outdoors in the new Mix Master Move Glide shoes ($95), I can say that I wholeheartedly love them. If you're an outdoor runner or hiker who can't wait for the snow to melt to get out and enjoy the trails, here's why you'll love these lightweight trail-running shoes.
After my first run in the shoes, I was surprised at how lightweight they felt. The mostly mesh upper makes the shoe pretty light; the women's pair clocks in at 14 ounces. And while I love minimalist shoes, I'm by no means a barefoot runner, so I was worried that the shoes wouldn't offer me enough support while I navigated uneven terrain. Luckily, I was wrong: even when I made a misstep and stumbled on a rocky piece of trail, I never felt out of control. Not only do the soles offer good grip and traction, but my feet always felt secure in them; the hard heel back and plastic lacing overlay gives some structure to the mesh exterior, and the 4-mm drop from heel to ball was designed to give absorb impact. Since I'm not used to barefoot-style shoes, I left the removable insole in, and felt that the shoes offered enough cushioning during all except my longer runs; at six miles I felt like the balls of my feet could use a little more cushioning, but it didn't hamper my comfort too much.
Keep reading for more.
Besides the Mix Master Move Glide's featherweight feel, I also love how roomy the shoes are. My toes had enough room to move around in the toe box, and my feet felt fully encased but not too snug around the center. I do have narrow feet, however, so be sure to try these around the house to be sure you like the narrower fit at the arch.
So they feel great, but how do they look? I love the neon green, yellow, and blue combination of my Island Green pair and so did a few passersby; since wearing these I've gotten quite a few compliments on my neon kicks. The neon also helps make me visible when running in the evening, which I appreciate. If you're in the market for a lightweight shoe for outdoor runs, hikes, or for throwing in your suitcase to sightsee while you travel, this is your pair! The Merrell Mix Master Move Glide comes in five colorways; see the options here.