Mexican Raw Bulgur Bowl Recipe
A Reader Recipe: Mexican Raw Bulgur Bowl
We love recipes that are fast, easy, and healthy! Like this recipe for a Mexican-flavored raw bulgur bowl from FitSugar reader Sprint2TheTable, who posted it in our Healthy Recipe group.
Did you know you can prepare bulgur RAW in 15 minutes?
The crunch from the raw bulgur was awesome, especially with the creaminess of the avocado. I think it's a lot like oatmeal so I ate it for breakfast. Think about it: many people put salsa on their eggs. You can often find avocado on breakfast sandwiches. Why wouldn't you put it on bulgur?
If you can't stomach Mexican that early, try it out at lunch! It's a great way to add more raw food (and protein!) to your diet.
Read on for the recipe.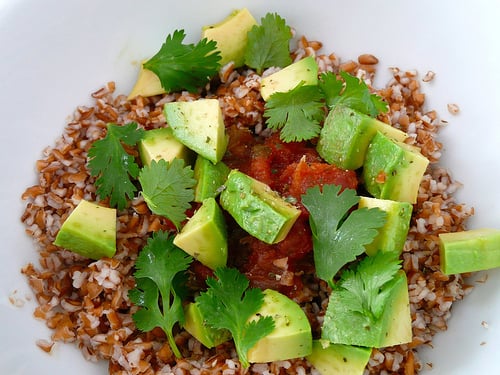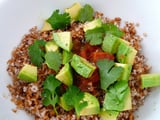 Ingredients
1/4 C bulgur (uncooked)
1/4 C water
2 T salsa
1/2 avocado, diced
1 T fresh cilantro
S+P, to taste
Directions
Combine the bulgur and water in a bowl.  Let stand for 15 mins.
Fluff with fork.  Top with salsa, avocado, and cilantro.  Season with salt and pepper as needed.
Enjoy!
Information
Category

Main Dishes
Post your own kitchen creation in our Healthy Recipe group and we might feature it on our homepage!