Michelle Obama and Beyonce Get Kids Dancing Across the Country
Michelle Obama Joins the Nationwide Dance Aerobics Frenzy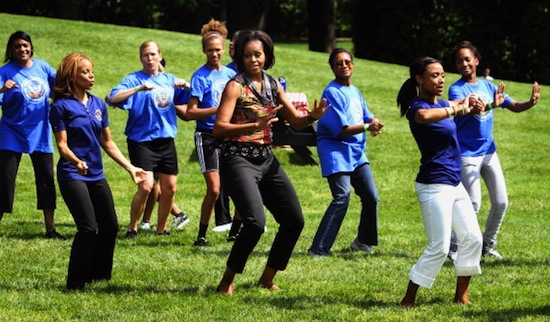 In support of First Lady Michelle Obama's Let's Move campaign — an initiative to help get America's children healthier through fitness and improved diets — Beyoncé recently rolled out her "Let's Move" music video to schools across the country to encourage students to learn the entire dance routine and perform it on May 3 in a "dance off."
Meanwhile, yesterday at the White House, Mrs. Obama boogied down with 80 children of National Guardsmen and reservists during a Let's Move fitness and nutrition event for military families. Although this isn't the first time we've seen the first lady show off her Beyoncé dance moves. Who can blame her? Dance aerobics are so hot right now because they are fun and a great overall workout — as evidenced by the large selection of dance workouts available today. Maybe that's why so many celebs are into Zumba.
Here's Beyoncé's original "Let's Move" video that's getting everyone dancing!