Michelle Obama Talks About Getting Tired From Working Out in Good Housekeeping
Does Working Out Ever Make You Too Tired?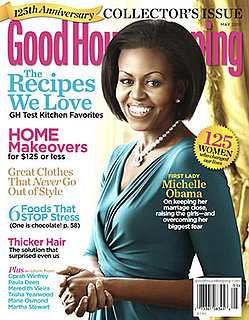 I love a good morning workout, especially because it gives me tons of energy to fuel the rest of my day: my body warms up, my blood starts flowing, and my endorphins get kicked into overdrive. Sometimes my workouts are so energizing that I even forgo my morning cup of coffee. For its latest issue, Good Housekeeping chats with Michelle Obama, and the First Lady revealed that she went a little overboard with her morning workout:

"I can start the day pretty tired. Today, for instance, I woke up extra early, did a vicious workout. I mean, killer! Lots of cardio. So I was really tired . . . "
Luckily the people she surrounds herself with were all she needed to perk right up and get on with her day.
Since I normally feel pretty refreshed after my everyday workouts, I'm wondering if any of you have ever experienced what the First Lady has. Tell me . . .