Mike "The Situation" Sorrentino From MTV's The Jersey Shore Is a Personal Trainer at Gold's Gym
Would You Let Mike "The Situation" Train You?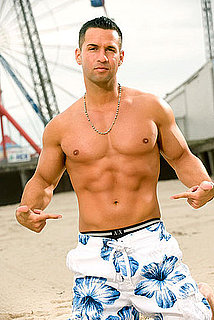 OK, here's the situation: you walk into your gym to meet your personal trainer for the first time, and it's none other than Mike, aka "The Situation," from MTV's controversial runaway hit, Jersey Shore. He's got a slight orange glow from his daily visits to the tanning salon, enough gel in his hair to last you a month, and underneath that Ed Hardy shirt, he is seriously ripped. Chances are he's going to leave with your digits too.
A myth in the making, "The Situation" is better known to his family as Mike Sorrentino. Sorrentino has been rockin' some pretty solid abs since junior high, so it totally makes sense that he is an assistant manager at a fitness facility. Specifically, Mike claims to be a personal trainer (via his MySpace page) at Gold's Gym. Are you lining up yet, ladies? Jokes aside, Sorrentino offers up some pretty solid advice about staying healthy in this video, where he discusses how to get the kind of bod he has. Good advice, good body, and great one-liners that make no apologies: "You can hate on me all you want to, but what can you possibly say to somebody that looks like Rambo, pretty much, with his shirt off."
Tell me . . .