Millet, Lentil, and Tomato Salad Recipe
Millet, Lentil, and Tomato Salad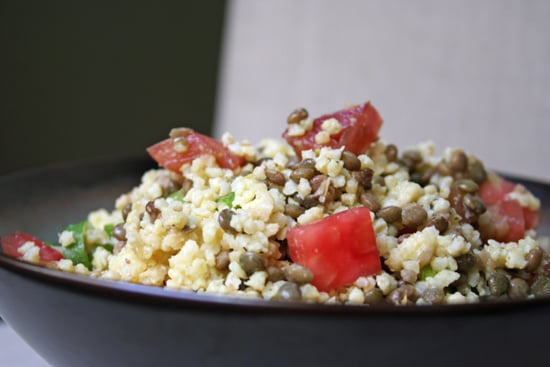 This millet, lentil, and tomato salad recipe is a great dish to eat for lunch, but it's also well received at parties and BBQs. During Winter months, I substitute dried cranberries or pomegranate seeds for the tomato. Like quinoa, millet is a pseudo grain, and it has a fluffy texture and a buttery, roasted flavor. It's high in B vitamins, calcium, iron, potassium, and magnesium.
See the recipe for the salad.
Millet, Lentil, and Tomato Salad
Loosely based off of the hot rice with cold lemon, basil, and tomato recipe from The Kind Diet.
Ingredients
1/2 cup millet, rinsed
1 1/4 cup boiling water
1/2 cup French lentils, picked over and rinsed
2 cups water
Olive oil to taste
1 large heirloom tomato, medium diced
1 lemon, zest and juice
2 teaspoons Trader Joe's 21 Seasoning Salute or flat-leaved parsley, chopped
2 green onions, chopped
Salt and freshly ground pepper to taste
Directions
In a small sauce pan, over medium heat, dry roast the rinsed millet until the color darkens and the millet becomes fragrant. Pour 1 1/4 cup boiling water over roasted millet, and cover. Cook for 30-40 minutes or until water is absorbed, and millet is thoroughly cooked. Cool to room temperature.
Meanwhile, cook French lentils in 2 cups of water for 30-40 minutes over medium heat, or until lentils are thoroughly cooked. Add any necessary water, and drain any extra water once lentils are cooked. Cool to room temperature.
In a large bowl, toss millet and lentils in olive oil. Add tomatoes, lemon zest and juice, seasoning, and green onions. Salt and pepper to taste.
Information
Category

Main Dishes

Cuisine

North American