Mini Triathlon Gym Workout
Olympic-Inspired Gym Workout: Mini Triathlon
The triathlon made its Olympic debut at the 2000 Summer Games, but people have been competing in this challenging multisport event since the 1920s. The Olympic event includes a 1.5 km (0.93 mile) swim, 40 km (25 mile) cycle, and 10 km (6.2 mile) run. Since you may not have time to squeeze an Olympic tri into your schedule, here's a mini triathlon workout you can complete at the gym in about an hour. Not only will this get you psyched to check out the female athletes competing on Aug. 4 for the gold, but mixing up your cardio workouts is also a great way to prevent injury and beat boredom.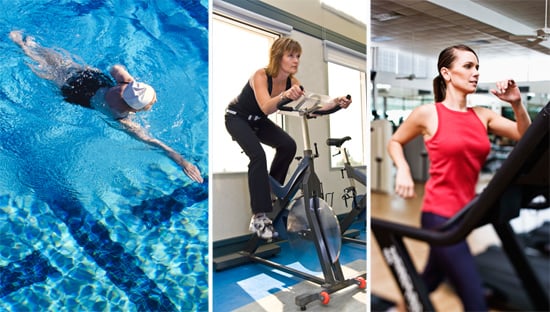 Begin with a five-minute warmup to get your blood flowing and to loosen up your muscles. Here are some ideas for exercises that will get you ready for your tri. Once the workout is complete, don't forget the five-minute cooldown.
Ready to give this tri a try? Keep reading for this mini triathlon indoor workout.
| Time | Workout |
| --- | --- |
| 0:00-3:00 | Swim: moderate pace |
| 3:00-13:00 | Swim: fast pace |
| 13:00-15:00 | Swim: sprint |
| 15:00-18:00 | Change into biking gear |
| 18:00-21:00 | Bike: moderate pace |
| 21:00-31:00 | Bike: fast pace |
| 31:00-33:00 | Bike: sprint |
| 33:00-36:00 | Change into running gear |
| 36:00-39:00 | Run: moderate pace |
| 39:00-49:00 | Run: fast pace |
| 49:00-51:00 | Run: sprint |