Misty May-Treanor Interview
Off the Court With Beach Volleyball Olympian Misty May-Treanor
The daughter of an Olympian and wife of a Major League Baseball player, professional beach volleyball player Misty May-Treanor knows a thing or two about competing. She even tangoed her way across the stage in Dancing With the Stars a few seasons ago. After winning back-to-back Olympic gold with teammate Kerri Walsh in Athens and Bejing, the duo is hoping for top honors again this Summer in London. While on the Nike campus in Beaverton, OR, I caught up with Misty, where she let me in on a few pregame rituals and what the scene is really like at the Olympic Village.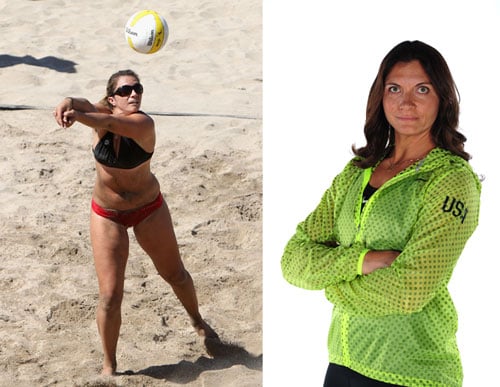 Misty, 34, is looking forward to competing and isn't letting her nerves get the best of her — the mark of a seasoned athlete. "I know when things are going to get me a little nervous, because nervous to me feels good." Asked about pregame rituals, Misty says she and Kerri make a habit of jumping over the sideline to enter the court together, which is followed by a complicated handshake. She'll also turn to music; to psych up before a match, she listens to anything from hip-hop to Euro. And, of course, the fans: Misty looks "at the stands and gets energy."
Find out what Misty says about the Olympic Village and her pregame meal after the break!
Misty's pregame meal focuses on protein (usually some eggs), but she smiled when explaining her trainer "doesn't think bacon is a bad thing." After a workout, it's all about protein again — grabbing anything from a turkey patty to a protein bar. And don't look for Misty to be having any of her meals in the Olympic Village. Once at the games, Misty avoids the athletes' area until her competition is over. "I think the most surprising thing about the Olympics would be the amount of interaction and partying that goes on behind the scenes. They have nightclubs at the Olympic Village. It's like college all over again."
Taking herself away from things is a pattern that seems to be working for Misty. For two to three months every year, she won't touch a volleyball. "It's important to just kind of get away from your sport until you miss it," says Misty. "It's about taking time to enjoy other aspects of life or learn new things. It helps rejuvenate." But make no mistake; taking time off doesn't mean she's not training. Misty still works out in the sand during her volleyball-free "vacation," doing running patterns with quick — and tough-to-do — direction changes mixed with jumps and dives.
As difficult as it is to move quickly in sand, Misty has a thing for speed. If she could be an elite athlete in another sport she'd race NASCAR, and if the Winter games were her gig, she'd go for bobsled or skeleton. "Their risks are quite different from ours; I think you get around this sound of speed and it's an adrenaline rush." Dreams of NASCAR will have to wait — for now, she and Kerri have their eyes on gold.