Mizuno Breath Thermo Women's Layered Tights and Crew Review
Gear Review: Mizuno Breath Thermo Tights and Crew Top
San Francisco may not have arctic weather, but running in the Winter still calls for a few layers, or at least gear strategically designed to keep frosty temps at bay. Enter the newest offering from running company Mizuno: its Breath Thermo line of zip-up jackets, tops, and tights designed with snowy weather in mind.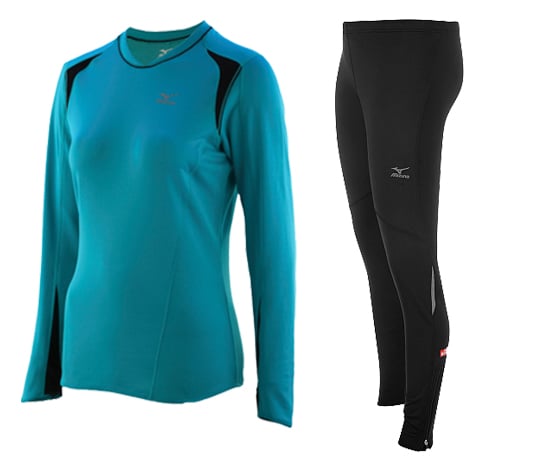 Thin and lightweight, both the Mizuno Breath Thermo Layered Running Tights ($75) and the Mizuno Breath Thermo Running Crew ($60) have a secret — they're made of material that both absorbs sweat and converts it to warmth using the company's Breath Thermo technology, so you stay dry and warm at the same time.
Once the evening temps hit the 50s, I took these out for a spin. I loved the tights the instant I pulled them on; they felt cozy and soft without feeling constricting, and they have well-thought-out details, like zippered calves for easy on, easy off, a small back zippered pocket for cash and ID, and an inside pocket for a key. Also, the strategic stitching and seam design give the tights a flattering fit as well — an important aspect to consider when you're running around town in leggings!
Find out what I thought about the Breath Thermo crew top after the break.
The crew top was similarly comfy, but the snug fit and the slightly scratchier polyester/polyacrylate material made it a little less comfortable for me than the tights. I did like the perforated panels around the armpit area for extra ventilation, and high crewneck design. The arm length was a little short (reaching just before my wrists), so I would have loved longer sleeves with thumb holes to help ward off the cold even more.
Running in brisk weather was comfortable in my Mizuno ensemble. I definitely felt the technology working — the Breath Thermo panels kept my body warm and had me wishing I'd brought earmuffs and gloves to keep my extremities similarly toasty. I didn't feel overheated, sweaty, or cold during any of my nighttime runs, and the reflective details on both pieces made me feel safer while I jogged around my neighborhood.
Lightweight, thin, and easy to layer while still equipped with enough warming capabilities to keep you toasty all by themselves, these are smart picks if you are a cold-weather runner (I highly recommend the running tights — warm, comfy, and flattering, what's not to love?). A note, I wasn't sure what sizes to get since there's no guide on the site. After a little debating, I went with a size up for the leggings and my normal size for the top, but the crewneck's snug fit and shorter-length sleeves make me think that if you are unsure you should order a size up (for both pieces).