Mizuno Wave Prophecy Running Shoe Review
Shoe Review: Mizuno Wave Prophecy
I've been a fan of Mizuno's running shoes since my first pair of Alchemy shoes, so I was excited when I heard I'd be able to test out the newest offering from the company, the Mizuno Wave Prophecy ($200).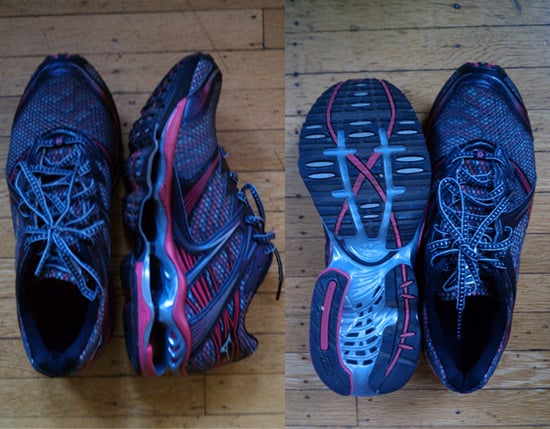 The Wave Prophecy is the result of over seven years of research to improve the company's signature Wave technology. This model debuts the full-length Infinity Wave Plate, which runs along the entire length of the sole. The Wave Prophecy uses the two stacked plates to provide runners with performance-enhancing technology like optimal energy disbursement and what Mizuno calls a "dynamic feel" for your whole foot.
The new technology sounded enticing, but since the Wave Prophecy isn't a stabilizing shoe like my Alchemy faves, I was curious to see how they'd feel on my overpronating feet. I tried them out on the treadmill and outside on hills and in the park. Want to know what I thought? Read my review after the break.
The Infinity Wave Plate sole adds to the shoe's height, making them a little bulky looking, so when I first peeked at them I wasn't quite a fan of how they looked. But once I got over the aesthetics and tried them on I was surprised at how lightweight they felt on my feet (they are actually just 10.8 ounces each). The thin walls of the shoes are sturdy enough to provide support for the stretchable mesh the shoe is covered in without taking away from the fabric's breathability.
I was also pleasantly surprised by how stable my feet felt in the shoes both on the treadmill and running through the park, and I especially liked how "bouncy" my gait became because of them. And I liked the slight upturn of the toe box almost as much as I liked the fact that there was lots of room for my toes to move around and breathe — I didn't have any toe soreness or blisters after any of my runs.
While the Prophecy uses Mizuno's Gender Engineering technology (including more flexible soles and more rounded outside heel) to accommodate women's tendency to pronate more than men, I don't think they are an appropriate choice for severe overpronators like myself. I experienced slight plantar fascia pain when running up a hill, and although I didn't experience any other type of injury or symptom, I wouldn't use these shoes for long runs. Also, even though my feet are pretty narrow I felt like the shoes were cutting it close: when I wore them on the treadmill I experienced a little numbness on the outer edges of my foot after the first mile or so, even when I loosened the laces.
Overall, however, I loved these shoes. While the price tag is a bit steep, in general they were extremely comfortable, breathable, and lightweight — not to mention the fact that their bounciness made running that much more fun, especially on the treadmill — so I'm bummed that I won't be able to use them more often. If you want to try these neutral shoes out for yourself, the Mizuno Wave Prophecy is currently available in the color seen above — Anthracite/Silver-Virtual Pink.