Moji 360 Massager Review
Get Rolling With the Moji 360 Massager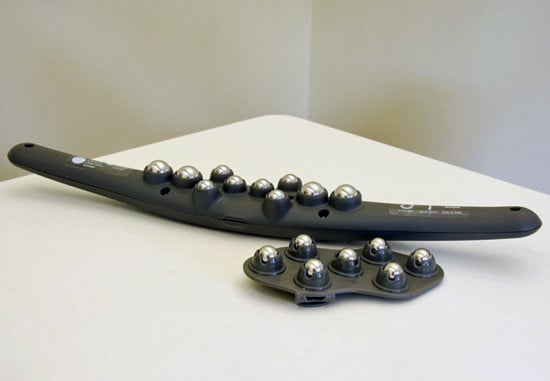 Upon arrival, the Moji 360 Massager Kit ($70) looked like something out of 50 Shades of Grey, but from my first trial, I was hooked. The tiny stainless sphere balls on each of the massagers offer a full range of motion, but the intensity is up to you. If you're hanging on the couch, you can have a little bit more of a relaxed massage; if you're really trying to work through a tough spot, you can add as much intensity as you see fit.
Both massagers were great at relieving tension from hard-to-reach muscle groups in order to give our bodies some extra love and attention. But they offer more help than just soothing sore muscles; the massagers claim to assist in breaking up troublesome scar tissue and to increase circulation.
Want to hear why we loved them? Keep reading to find out.
The larger Moji 360 Massager ($60) is great for targeting hard-to-reach spots; I especially loved using it on my upper back and neck. With that said, the larger massager is lightweight, but it is definitely not portable enough to slip into a gym bag.
For everyday use, I fell for the Moji 360 Mini-Massager ($30). With a handle that offers a perfect grip, simply slide your fingers under it to get rolling wherever you are. The minimassager is amazing for tight IT bands after a run, sore hamstrings after a tough yoga class, and loosening up tension in your feet. Anytime someone in the office was dealing with a troublesome spot, we tossed the massager around for a little support. Time after time, we heard good "oohs" and "aahs" — just the appropriate amount of healthy release for the office environment.